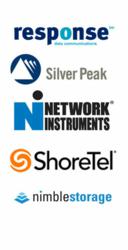 "2012 is a great year for London and what better way to celebrate the spirit of the city than to bring together some of the leading lights of corporate technology," commented Jason Evans, Managing Director, RDC
London (PRWEB UK) 19 June 2012
Response Data Communications (RDC) in association with four of its global, enterprise technology vendors, ShoreTel, Silver Peak, Nimble Storage and Network Instruments®, is hosting a lunch and learn seminar on Wednesday, 20th June, at Forman's, opposite London's most topical landmark, the Olympic Park.
The seminar is part of a five month multi-channel marketing communications campaign to celebrate once in a lifetime events in London this year and brings together leading experts in corporate technology. It will shed light on the latest developments and market trends in data centre class WAN optimisation, next-generation storage, unified communications, business telephony and network and application performance analysis tools.
The event will be attended by 40 guests and 20 partners including Barclays, Aviva, Santander, Linklaters LLP, Arcadia Petroleum, Bank of East Asia and City Cruises. Olympian Roger Black will be delivering a keynote speech focussing on being a champion and what it's like to succeed, giving examples of perseverance, dedication and using the right tools. He will give his vision for London 2012 and how IT and communications play a vital role in the success of the games.
"2012 is a great year for London and what better way to celebrate the spirit of the city than to bring together some of the leading lights of corporate technology," commented Jason Evans, Managing Director, RDC
"This is a brilliant opportunity for the leaders in communication technology to come together and provide strategic insight in some of the key industry trends," commented Tom Perry, EMEA Marketing Director, ShoreTel. "RDC is a key partner delivering best-of-breed IT solutions to customers and we're excited to be part of this seminar."
Delegates will have the opportunity of get their picture taken with Winter Olympic ski jumping legend and all round British hero Eddie "The Eagle" Edwards.
"Blending sports and business provides an exciting setting for Silver Peak to engage with industry leaders to discuss key industry trends. RDC has been an important partner for Silver Peak as we entered the UK market and we look forward to our continued partnership and success", commented Mike Betz – VP EMEA, Silver Peak
Disruptive Technology Lunch & Learn
Date: Wednesday 20th June 2012
Time: 11:00 – 14:30hrs
Venue: Formans, Fish Island, Stour Road, London, E3 2NT
(Opposite the Olympic Stadium)
For more Information on the event or to request a pass:
http://www.rdc.uk.com/upcoming-event-disruptive-technology-champions/
Follow on Twitter, YouTube, LinkedIn and the RDC Blog
About RDC
RDC boast Platinum and Gold reseller partnership accolades for both UK and EMEA markets, with 17 years history of delivering leading edge, secure, high performance, strategic enterprise IT and communication solutions in partnership with their portfolio of award-winning vendors. Their team of engineers have the knowledge and experience to ensure successful integration with existing environments, while maximising effectiveness, efficiency and profitability.
About Vendors
ShoreTel
ShoreTel's award winning all-in-one Unified Communications solution was designed from the ground up to take advantage of IP technology and eliminate the kind of complexity found in competing solutions that keeps organisations tangled up in high costs. Built on a simple architecture, the ShoreTel UC system is quickly deployed, easy to learn and use, and straightforward to manage that deliver a significantly lower Total Cost of Ownership (TCO) than other solutions, guaranteed.
Silver Peak
Silver Peak is a privately held company that improves backup, replication and recovery between data centres and facilitates branch office server and storage centralisation by improving application performance across the Wide Area Network (WAN). The company's award-winning appliances deliver exceptional performance improvements with unprecedented security and scalability across all enterprise applications, including data replication, backup, file transfers, email, web and real-time applications such as Citrix and VoIP.
Nimble Storage
Founded and led by storage industry veterans, Nimble Storage is the fastest growing storage vendor in history. Nimble solutions are built to eliminate the compromise among performance, capacity, ease of use, and price. Nimble's patented Cache Accelerated Sequential Layout (CASL™) is the first storage architecture designed from the ground up to seamlessly integrate SSDs with high-capacity disks, delivering affordable performance, integrated backup and disaster recovery, and pain-free operations.
Network Instruments
From the company's strong beginnings, it has evolved into an industry leader in application and network management focused on providing solutions for Global 2000 corporations. Its products optimize performance and speed problem resolution, helping ensure delivery of critical applications for businesses worldwide. Network Instruments delivers these benefits through a seamlessly integrated line of software and hardware systems that are precision engineered for exact network monitoring and analysis.