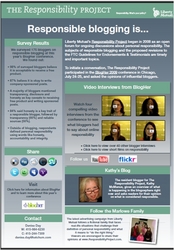 Guide Concerning the Use of Endorsements and Testimonials in Advertising.
Boston (PRWEB) July 29, 2009
Liberty Mutual's Responsibility Project participated in the BlogHer 2009 conference in Chicago July 24-25 and asked influential bloggers to share their opinions on responsible blogging and the proposed revisions to the Federal Trade Commission (FTC) Guidelines for Endorsements & Testimonials which will now apply to sponsored product reviews posted on blogs, message boards and other social media.
At the conference, The Responsibility Project brought to life an open forum for bloggers and other attendees to share their opinions and advice on responsible blogging by either filling out a survey or participating in an on-camera interview. Participants were asked questions on a range of responsible blogging topics including, sponsored blog posts, the proposed FTC revisions, and what's considered appropriate content to include on a blog.
Highlighted Results:

98 percent of surveyed bloggers believe it is acceptable to receive a free product
A majority of bloggers mentioned transparency, disclosure and honesty as key caveats to receiving free product and writing sponsored posts
84 percent said honesty is a key trait of a responsible blogger, followed by transparency (66 percent) and reliable sources (56 percent)
About Proposed FTC Guidelines: The FTC has taken a recent interest in bloggers who receive product and sponsorships from companies in exchange for positive reviews. The FTC's proposed revisions for social media, which could require all online media to comply with certain disclosure rules, are part of the larger "Guide Concerning the Use of Endorsements and Testimonials in Advertising." A vote on the guidelines by the Commission could come as early as this fall.
About the Responsibility Project: The Responsibility Project, created by Liberty Mutual, uses entertainment content to create a forum for people to discuss personal acts of responsibility. Through short films, online content and television programming, The Responsibility Project is a catalyst for examining the decisions that confront people trying to "do the right thing."
Individuals can participate in online conversations about personal responsibility and also review live-action and animated film shorts on the project's online community, http://www.ResponsibilityProject.com.
Where: Four compelling video interviews from bloggers attending the conference are featured in the attached multi-media release, and all videos can be viewed online at The Responsibility Project Web site.
Contact: Denise Day, (415) 984-6230
Methodology - Liberty Mutual's Responsibility Project surveyed 175 bloggers July 24-25, 2009 on-site at the BlogHer conference in Chicago.
###