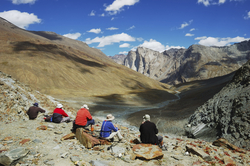 Responsible adventure tourism will create lot of new opportunities for locals, tourists, tour operators, small vendors and promote sustainable tourism.
(PRWEB) October 25, 2010
"Responsible Adventure Tourism", a spanking new concept in Adventure India tourism industry has emerged lately in India and since then it has become a buzzword in the entire industry. In simple sense, Responsible Tourism involves respecting and benefitting the local people & environment. It is not only about just visiting the place but about discovering, relaxation and fulfillment of our inner self.
Not only will it help in protecting the priceless bio-diversity and maintain ecological balance but also to reap the benefits of the booming economy without causing any damage to biological heritage.
India, with her variegated ecosystem, and wealth of civilizing heritages of great antiquity, offers immense scope in responsible adventure tourism. India, specifically, has an abundant scope to appear as a Responsible tourism destination due to the massive growth of tourism in last 5 years. The tourism industry in India generated about US$100 billion in 2008 and that is expected to increase to US$275.5 billion by 2018 at a 9.4% annual growth rate. Once such organization that is working to develop India as a Responsible tourism destination is ICRT (International Centre for Responsible Tourism), Based in Bangalore, Karnataka, it works in collaboration with private sector, government and local communities to develop Responsible Tourism in Karnataka and India, of course.
Karnataka, the fourth most popular destination for tourism among states of India, has revolutionized itself in coming out to be one of the top destinations of responsible tourism in India. Also called as Heritage state of India, it has 21 wildlife sanctuaries and five National parks with more than 500 species of birds. Sanctuaries like Nagarhole are among such sites which have increased the visibility of responsible tourism in Karnataka. The stay arrangements for the tourists are done in cottages & log huts developed from eco-tourism point as well. It is a perfect getaway for nature lovers with its breathtaking locale and tranquil backwaters. Situated in Western Ghats, Kodachadri & Chikmagalur are the two destinations which cannot be forgotten. While Chikmagalur is a picturesque hill station with many valleys, streams and not to be missed the snow-white coffee, Shimoga is known for the famous Jog Falls and its dense forests and misty peaks. Both the places are very much known for their scenic trekking routes. Trekking in Western Ghats is an unforgettable experience.
Next in the list, we have Dandeli, another wildlife sanctuary is a place for those who lives with nature. The eco-site in Dandeli combines the immense severity of the jungle with the heartening comforts of home. Last but not the least; Bheemeshwari is another perfect example of responsible tourism. Tucked away from the milling crowds, yet close enough for one to reach, this world-renowned site for Mahseer sport fishing offers a slice of nature that is entirely unique. Both Makalidurga and Bheemeshwari provide a stimulating blend of nature, adventure and wildlife.
All these places have been the hot spots for the corporate weekend getaways and adventure around Bangalore. Overburdened people travel during the holidays to relax in the harmony of these places and to rejuvenate their spirits. To target this huge chunk, many tour operators have diversified themselves in to the concept of eco-tourism and responsible tourism.
One amongst the many companies "Thrillophilia Adventure Tours Pvt Ltd" has also marked its footprints in this field since last one year all over India. Being a responsible adventure tour operator, Thrillophilia has supported local businesses and has generated employment among the local youth for the overall development of the region. Thrillophilia also promotes eco-lodges and local farmhouses on their trips. Proper guidelines are given by facilitators to the clients before the commencement of the trip regarding safety, environment and local traditions which has resulted in cleaner and far more enjoyable trips. Thrillophilia has been involving itself in causes like Flood Relief Fund in Ladakh which happened in August. Cleaning program is also carried out during Chadar Trek in Ladakh.
Kerala has also been one such state which has pioneered in this concept but we as a whole are still a long way to go. In cohesion with these two states, many other tourist destination in adventure or otherwise have also pioneered in the concept of responsible tourism. Tour operators now see the nature as more of their own responsibility than just a source of Bread & Butter. However, the Government still needs to liberalize various infrastructural constrictions faced by foreign tourists in India. This generous concept of responsible tourism has become so visionary that it would be much more feasible economically, protracted ecologically, accepted socially and idyllic philosophically when compared conventional tourism, in the long run.
In a nut shell, Responsible Tourism in India has initiated the responsiveness amongst the tourists and the travel agencies as well to maximize the positive forces and nullify the negative forces on environment, customs, and traditional heritages of the region.
###