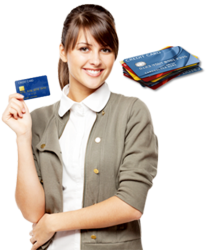 Greenville, SC (PRWEB) June 01, 2013
Credit Help Cards is a quickly growing business that specializes in providing high quality credit cards, and bad credit help, to those with bad credit scores. Because their business is focused on bad credit, anyone at all no matter what kind of credit they have can be accepted.
Applicants who apply at Credit Help Cards have a 99.3 percent chance of acceptance. They then have the opportunity to choose a major credit card provider (MasterCard, VISA, Discover, American Express), and get the card they need. Having a reliable, high quality credit card is a must, and there are far too many unsafe credit card providers to trust any but a major name brand provider.
To apply for a credit card today visit http://credithelpcards.com/
Being responsible when using a credit card is very important. A credit card can be a great tool for many financial situations and for building up some credit scores. Unfortunately it can also cause great damage to one's finances. That's why Credit Help Cards' blog is designed to offer quality, professional advice to any of their clients or visitors. Visit Credit Help Cards' blog today for some great financial advice, then apply and get a great credit card today!
About Credit Help Cards
Credit Help Cards is the leading credit card finance provider in USA fully dedicated to help its customers acquire a credit card regardless of credit history. They design and develop customized no credit credit cards, bad credit credit cards, and good credit credit cards. Voted the best for "Quality Customer Service; Best National Credit Cards Service" by thousands of people, their finance experts focus in providing its customers information and various tools available for different credit card offers, help them to choose the best that fits their goals and needs.