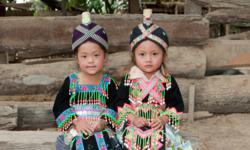 We place a lot of importance on responsible travel, and hand-pick activities we know are worthwhile and mutually beneficial to the traveler and to the local community.
Bangkok, Thailand (PRWEB) August 22, 2012
As a private tour operator that tailors individual travel experiences, all the tours offered by Backyard Travel value sustainability and responsible tourism. By crafting custom experiences within Asia, itineraries are suited to the individual traveler's needs, promoting a natural connection to the environment and to local communities through village and school visits, homestays, and including eco-friendly properties and experiences in the itinerary.
While visiting Southeast Asian countries – Laos, Vietnam, Cambodia and Myanmar in particular – many travelers become more aware of the social needs of the communities they encounter. Through specialized tours, Backyard Travel enables travelers to meet, interact with and help local communities, gaining a more profound understanding of their destination and benefiting the places and the people they visit in the process.
Backyard Travel's Life with the Tribes tour in the hinterland of Laos allows travelers to explore hill tribe country and delve into Akha culture. Serene forest treks promote connectedness with this beautiful terrain, while time spent learning the customs and traditions of the Akha encourage travelers to learn about and contribute to everyday tribal life. Seventy-five per cent of the proceeds of this tour go directly back to the villagers.
In northern Laos, the Charity in Luang Prabang tour offers a five-day itinerary of the UNESCO-protected town. Highlights include an eco-friendly bike tour of the sights, a trip to the Traditional Arts and Ethnology Centre in support of indigenous hill tribe culture, and a visit to Ock Pop Tock weaving center to learn about the local tradition of silk-weaving. The tour gives the opportunity to learn about the plight of Asiatic black bears at the Tat Kwang Si Bear Rescue Centre and on day four, a visit to the Pha Ke Botanic Gardens introduces travelers to the 'Save a Tree' project – an initiative that seeks to educate local children about their environment through donated books.
For a profound experience in of one of Southeast Asia's most indelibly affecting countries, the Make a Difference in Cambodia tour promotes both cultural exchange and sustainable geo-travel. During this six-day tour travelers will visit the Landmine Museum, Angkor's ancient temples, the village of Battambang, and an NGO that supports impoverished and trafficked children with education and training. Highlights include a trip down the Tonle Sap, insights into rice-paper production and a circus performance by local youth arts initiative Phare Ponleu Selpak.
Sibylle Rotzler, Backyard Travel Sales Manager, said: "We care about the impact our tours have, socially and environmentally, and design our trips to bring about positive change. We place a lot of importance on responsible travel, and hand-pick activities we know are worthwhile and mutually beneficial to the traveler and to the local community. Aside from having a positive impact on local industry, our itineraries provide intriguing experiences for our clients, so they can connect with their destination country and its population at the deepest level."
Every tour offered by Backyard Travel promotes close, sustainable interactions with the natural environment and local culture and allows travelers to contribute to the communities they visit. See Backyard Travel's full range of holidays in Asia.
ABOUT BACKYARD TRAVEL:
Bangkok based Backyard Travel is an online travel company specializing in tailor made tours to Vietnam, Thailand, Cambodia, Laos, Myanmar, Indonesia and Japan. For more information about Backyard Travel, visit http://www.backyardtravel.com. See their Facebook page facebook.com/BackyardTravel.