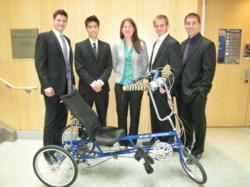 In April, when we had our first round of end-user testing, our task was transformed into something greater.
Rochester, NY (PRWEB) June 13, 2012
Founded earlier this year at the University of Rochester, MonoMano is a student run startup focused on helping one armed cyclists to safely operate a recumbent tricycle using a single hand control system that conveniently mounts to all factory handlebars. With a functional prototype and total addressable market in the tens of millions, this young startup is ready to serve a critical need among stroke survivors. After placing 2nd in the 2012 Mark Ain Business Plan Competition last month, they decided to go further and post their technology on Innovocracy. Since posting the project, Mono-Mano has raised more than 80% of their $6,000 funding goal. Any money raised will be used to get the product into the hand of stroke survivors and amputee riders before the end of summer.
Behind the venture are five recent biomedical engineering graduates, Travis Block, Sara Hutchinson, Dominic Marino, David Narrow, and Martin Szeto, all of whom have spent the better part of the year converting an idea on paper into a viable product.
"Back in December when our team began working on this project, we envisioned our task as an engineering problem with design constraints such that an individual with one hand may fully operate a cycle," says CEO David Narrow. He goes on to add, "In April, when we had our first round of end-user testing, our task was transformed into something greater."
The MonoMano single hand control system, in all of its simplicity and overreaching practicality, is really a third handlebar (see image). Fastened near the center of the original handlebars, the additional handlebar protrudes toward the rider for ease of reach and safety. The single hand grip, braking and shifting systems are positioned in the middle of the new handlebar instead of at the ends like traditional handlebars MonoMano attaches to. From the single hand grip, riders can squeeze the brakes to control speed, shift gears to adjust to changing elevation, and steer the tricycle to stay on course and avoid obstacles in the road.
New supporters will need to make donations before June 30th to push this project across the finish line. For more information, please visit the MonoMano project page on Innovocracy and their coverage in the Democrat and Chronicle last month.
About Innovocracy.org
Founded by a group of entrepreneurs, Innovocracy is an academic crowdfunding platform which works with our institutional partners to provide a funding mechanism for the commercialization of products developed by their researchers. Innovators post Projects on Innovocracy with a desired funding amount (typically between $3,000 and $15,000) and an end date for raising money.
Supporters pledge funds in any amount. If the funding reaches its goal by the end date of the Innovocracy Project, Supporters are charged for their pledge. If the project fails to reach its funding goal, no one is charged. Anyone, anywhere may Support a project. Over 90% of the funding goes directly to the Innovator and no equity changes hands.
In addition to building a funding eco-system, Innovocracy is developing a global network of innovation emerging from research in leading academic institutions.
Please visit Innovocracy.org to learn more.