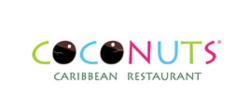 Have a Caribbean summer party with friends and family at Coconuts--for those who don't have spare cash or time to go to the real place
Palo Alto, CA (PRWEB) July 25, 2012
One need not haul an entire group of friends and family to the Caribbean islands just to have a great Caribbean summer party. Coconuts Caribbean Restaurant has taken the task of bringing the islands to Palo Alto, and is now offering its restaurant as a venue for parties.
"Have a Caribbean summer party with friends and family at Coconuts--for those who don't have spare cash or time to go to the real place," Aaron Keller of Coconuts Caribbean Restaurant said. "We have award-winning, handcrafted cocktails, authentic cuisine, and a knowledgeable and friendly team here."
The venue can comfortably seat 110 people, and has a private area and a patio that can accommodate up to 60 people at once. In addition, the restaurant is available for a buyout for interested parties.
One of the best places to eat, Coconuts Caribbean is a full-service, Palo Alto restaurant and bar that specializes in authentic dishes inspired by the Caribbean. This includes cuisines such as Caribbean pasta, a spaghetti pasta tossed with crabmeat, shrimp, mussels and recaito sauce; jerk salmon, an Atlantic salmon grilled with the restaurant's signature jerk sauce; Caribbean succotash; and chicken shrimp pelau, a classic Trinidadian rice dish of caramelized chicken, shrimp and pigeon peas. The restaurant also features a wide selection of Caribbean rum and beer.
"At Coconuts, the familiar sound of reggae, calypso, pan and rumba, paired with an island cocktail and welcoming staff will put you in the island spirits," Keller said.
For more information about any of Coconuts Caribbean Restaurant's products or services, call 650-353-2897, view the Palo Alto restaurant on the Web at http://www.coconutspaloalto.com/ or visit 642 Ramona St. in Palo Alto.
About Coconuts Caribbean Restaurant
One of Palo Alto's best restaurants, Coconuts Caribbean Restaurant serves authentic and delicious dishes inspired by the Caribbean. Its menu offers a vast array of island specialties, including half jerk chicken, six-hour braised oxtail and shrimp Creole. Enjoy a piece of the Caribbean lifestyle at Coconuts Caribbean Restaurant in Palo Alto.