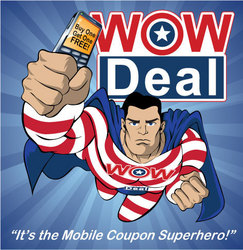 Our eventual goal is to have everybody in the US receive a free lunch or dinner from a friend
New York, Ny (PRWEB) July 15, 2009
WOW Deal, a new mobile coupon service, hopes that everybody in the US will soon receive a free lunch and/or dinner. WOW Deal delivers 2-for-1 mobile coupons from local restaurants via Twitter, Facebook, and text messaging right to local patrons' mobile phones.
"Our eventual goal is to have everybody in the US receive a free lunch or dinner from a friend," explains Joe Freudenthal, co-founder and CEO of WOW Deal.
Patrons love WOW Deal because the mobile coupon shows up an hour before lunch and dinner giving them just enough time to invite and feed a friend or family member for free. Patrons from coast-to-coast are signing up for the free mobile coupon service by visiting WOW Deal.
"The restaurant chains are loving the WOW Deal concept because the mobile coupons are actually going to patrons who are anxiously waiting to receive them. WOW Deal works so beautifully because it delivers a valuable mobile coupon right into the patron's hands, right when they are deciding where to eat," explains Freudenthal.
Restaurants nationwide can get more information about by visiting WOW Deal at http://www.wowdeal.biz .
Please contact Joe Freudenthal for more information, 816-396-5599.
About WOW Deal:
Launching August 1st, 2009, WOW Deal is a very simple mobile coupon service that delivers "2 for 1" mobile coupons from local restaurants nationwide to patrons who have signed up to get them via Facebook, Twitter and text messaging.
###