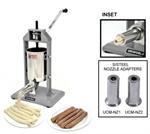 (PRWEB) January 31, 2013
Commercial restaurant equipment supply retailer AtoZRestaurantSupply.com continues its streak of excellence with a long line-up of new products and categories to kick off the New Year. Here now are more popular items such as French fry cutters, pasta and noodle machines, and crepe makers. New products and categories include exciting new spice grinder, as well as new models of churro machine makers. These products are sure to make a splash in 2013, both in homes and commercial restaurants.
Ever the popular seller, the stainless steel heavy duty commercial churro machine makers category has been revitalized with several new models to make your dessert crafting fantasies a reality. Now available in a multitude of weight capacities, these churro machines are perfect for making snacks at home, or producing dozens at a time for commercial purposes. Crafted of stainless steel, an industry standard, these churro makers will withstand the test of time and use for many years.
Many cultures rely on pasta and noodles as their main form of sustenance, and AtoZRestaurantSupply.com supplies only the finest commercial pasta makers and noodle machines. Available as mechanical or electric devices, these machines are designed with the customer in mind, being both durable and easy to operate. Numerous system settings can be manipulated to produce a variety of noodles and pasta in an array of quantities. Whether it is dinner at home or hundreds of pounds of noodles in a restaurant, these pasta and noodle machines are up to the task.
As communities become more and more health conscious and eco-aware, the desire to create personal, organic meals has never been higher. AtoZRestaurantSupply.com's electric commercial spice grinder offer the perfect way to prepare an enormous number of spices and condiments safely and quickly. Cinnamon, nutmeg, peppercorns, garlic and more are common spices and foods that spice grinders can prepare quickly and efficiently.
Similar to the spice grinder, the grain mill is a device used to grind grains, such as wheat, beans, corn, coffee, cocoa beans, and is an essential aspect of many restaurants and food service companies. Made of cast iron and tin, these grinders are durable and built to last. Capable of grinding hundreds of pounds of grains and similar foods a day, these grain mills will save a considerable amount of time spent grinding foods to be used in food preparation. Designed with vice-like clamps, grain mills can be mounted on nearly any table edge, providing an easy and reliable way to use them in a commercial setting.
French fries have become an American staple, and few restaurants would be complete without them on the menu. AtoZRestaurantSupply.com offers easy to use commercial French fry cutter that are ideally suited for both commercial restaurants and homes. Capable of cutting a single potato at a time, the extra sharp blades of the fry cutters provide a smooth pile of finely cut fries in no time. Various models are available with a range of fry cutting dimensions, ensuring that all sizes and styles of French fries can be made.