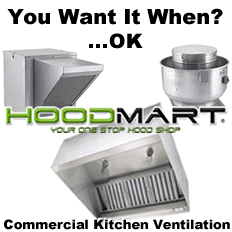 "We have our most popular Make-Up Air Hood sizes now in stock and can ship in 24 to 48 business hours after receipt of order"
Cambridge, OH (PRWEB) June 21, 2011
If you have ever purchased or been a supplier, you most likely have heard the phrase, "you need it when?" A cold silence comes over the phone at that point. But now HoodMart has now solved some of those manufacturing emergencies in the restaurant equipment industry.
HoodMart a restaurant exhaust hood systems manufacturer in Ohio is giving contractors, those starting a restaurant and existing restaurant owners, a helping hand to stay on schedule.
The 'Need A Hood In A Hurry' program was created due to the many requests for expedited delivery. "We have our most popular Make-Up Air Hood sizes now in stock and can ship in 24 to 48 business hours after receipt of order", says Pat Ranch HoodMart Sales Manager.
HoodMart, Inc. has added production capacity to offer even faster delivery of our most in-demand make-up air hood packages. Standard commercial exhaust hoods in sizes of 4ft, 6ft, 8ft, 10ft, and 12ft are available In Stock and Ready-To-Ship in 24-48 business hours.
Having the fastest lead times, a knowledgeable and friendly customer service staff, as well as an experienced technical support team, has made HoodMart, Inc. one of the major players in the commercial ventilation equipment industry.
HoodMart® Restaurant Exhaust Hood Systems
HoodMart.com offers commercial kitchen hood systems in a variety of sizes from 4 feet to 30 feet. Restaurant and Food Service Safety is a Priority with HoodMart's wet chemical Pre-Piped Fire Suppression Systems.
NOTE: All HoodMart's restaurant exhaust hood systems are ETL listed to the UL710 Standard, built to the NFPA 96 Standards and NSF Listed. For more information about HoodMart's commercial kitchen ventilation equipment and services, we welcome you to visit us at HoodMart.com.
Media contact:
Pat Ranch
Call 1-800-715-1014 Toll Free in Ohio
###