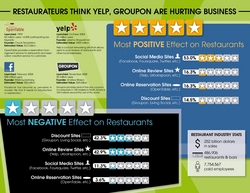 43% thought Yelp was hurting restaurants the most while 41% felt Groupon was the more damaging website to food service.
Boulder, CO (PRWEB) March 30, 2011
A recent poll conducted by Tundra Specialties, a national distributor of restaurant supplies and equipment, revealed a negative view of two websites that have dramatically altered the food service industry in recent years.
Tundra surveyed customers over a month long period in order to better understand how the food service industry is reacting to the rapidly increasing influence of the web on their business.
A wide range of Tundra customers were asked which of four groups of websites they felt affected the food service industry most positively and most negatively. The four consisted of group discount sites like Groupon, online review sites like Yelp, online reservation sites like OpenTable, and social media sites like Facebook, Twitter, and FourSquare.
The polling data shows restaurateurs are evenly divided over which website is affecting their business the most negatively. The split is between Groupon, the group discounting site, and Yelp, the restaurant review site.
43% thought Yelp was hurting restaurants the most while 41% felt Groupon was the more damaging website to food service.
The biggest problem these two sites present for restaurants is brand management. Yelp gives every customer a soapbox from which every flaw in a restaurant's performance can be broadcast through a very loud megaphone. Many restaurateurs have struggled with how to respond to the criticism effectively while limiting damage to their brand.
Many experts feel that Groupon and the practice of deep discounting, made popular by stingy customers during the 2008-2010 recession, is far more damaging to restaurant brands.
"The ultimate harm is the culmination of all of these group buying coupon programs and restaurants participating in them feed the addiction of coupon clippers, who hop from one restaurant to another," says Joel Cohen of RestaurantMarketing.com, a leading consulting website for the food service industry. "I've definitely heard more horror stories than success stories."
Restaurants have also found websites they feel has helped business, particularly social media. 52% thought social media sites like Twitter, Facebook, and Foursquare had a positive effect on the food service industry. 14% of respondents thought Groupon had a positive effect on restaurants. OpenTable and Yelp both garnered 16% of the vote.
That no group of websites gained an overwhelming majority of positive or negative votes shows just how uncertain the food service industry is about how the web is affecting business.
"There's an awareness that everything's still in flux, with new platforms coming out all the time and a desire to try some of them and find what works and what doesn't," says Cohen.
# # #