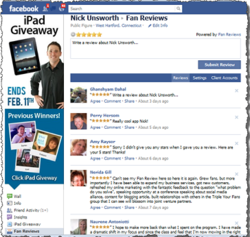 Review Engine ROI is one of the best marketing strategies I have seen in years.
Houston, TX (PRWEB) August 01, 2012
Restaurant marketing tips and strategies can be found all over the place but ones that are effective and provide a great return on investment (ROI) for the long term are hard to come by. The big resturant chains have their own methods of marketing which work for them but for the smaller businesses, they techniques are not affordable or effective especially as the way people buy and make buying decisions change.
According to a Nielsen's Global Trust in Advertising Survey of 28,000 respondents, 67.2% of respondents said they do not trust paid advertising, especially on the Internet. With those same respondents, 92% said they trusted reviews and recommendations from friends and family.
This study shows why review websites like Yelp, CitySearch and Google reviews have become so popular amongst people who frequent restaurants. People want to know what other's are saying before spending their money. In addition to the review sites, social media is taking over many traditional marketing avenues.
In response to those discoveries, Nick Unsworth has created what is quickly being called the best social media marketing tool created for small businesses, Review Engine ROI.
What is Review Engine ROI?
Review Engine ROI is not only a marketing tool that is an innovative 'Fan Reviews' Facebook application. This application utilizes the most powerful form of marketing, word of mouth. The software makes everything push button simple and really easy for people to use and includes a coaching program of how to best utilize it put together by Nick and his team at Smashit Social.
For those that are familiar with Facebook, the application is installed on a Facebook Fanpage. Every time a reviewer posts a review, it is sent to all the friends and family of the person who wrote the review as well as all the fans of that fanpage.
John Barry of http://ReviewEngineRoi.org states, "This is a powerful tool that every restaurant needs to incorporate in their marketing. The first thing people look for when deciding on a restaurant are the reviews. Combing reviews with the viral nature of Facebook and this product, makes it a great choice for restaurants. Nick offers a 60 day no risk money back guarantee, so I recommend everyone try it for 6 weeks for themselves."
For those that want to learn more or to get access to this powerful restuarant marketing tool should go visit the official website here.
For those that want a review of the program can visit: http://reviewengineroi.org/review-engine-roi-review