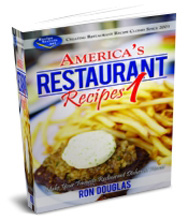 A simple kitchen, store bought ingredients and my recipes are the only skills required.
Charlotte, North Carolina (PRWEB) October 15, 2012
The average American family now spends $300 each month eating at local restaurants according to Food industry data. One New York Times Best Selling author has authored a new book to teach families and individuals how to create their favorite restaurant menu items at home. Ron Douglas has developed his Restaurant Menu Secrets book into a two-book PDF download that can be read on an electronic reading device.
"There are over 200 popular restaurant recipes in just the first book series," said Ron Douglas, author of the Restaurant Secrets book. "A family could save hundreds of dollars a month from their food budget by creating restaurant menu items at home," Douglas said.
The popularity of television cooking channels and food industry talk shows has sparked interest in more cooking at home. While the average person might have zero chef skills, the ability to follow directions written by a professional can help produce 4-star meals.
The processed foods that are heated and served in most fast food restaurants can be duplicated at home for a fraction of the cost according to the Restaurant Menu Secrets book series.
"I've been on national television and fooled hosts with my creations that are put inside of this book series," said Ron Douglas. "A simple kitchen, store bought ingredients and my recipes are the only skills required," added Douglas.
Media reports of health concerns in fast foods has prompted more people to grow organic gardens to produce vegetables that are without additives, preservatives or pesticides. One of the complements to eating healthier is the ability to know the difference between fresh foods and processed ones.
Apart from the restaurant secrets information, Ron Douglas has included healthy children's meals as well as healthy living diet information inside of his new book series.
About Restaurant Menu Secrets Book
Ron Douglas authored his first Restaurant Menu Secrets Book and went on a national media tour. The book hit the best sellers list and things have never been the same for Ron. The newest Restaurant Menu Secrets Book is packed full of hundreds of new recipes to help reduce the cost of family food budgets. As an experienced writer, Ron Douglas spends his time educating others how to cook extraordinary meals with no experience. The code has been cracked on restaurant menu items inside the Restaurant Menu Secrets Book.