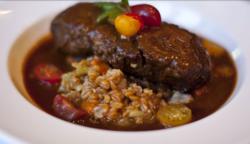 The history of MoMo's is the history of the SOMA neighborhood
San Francisco, CA (Vocus/PRWEB) June 23, 2011
A mainstay in the hot, happening SOMA area, MoMo's announced its new spring menu today. A menu with a line-up of fresh, local fare and delicious, lean protein-centered dishes. Situated across from AT&T Park, the home of the San Francisco Giants 2010 World Series Champions, MoMo's has exhibited unrivaled staying power in a neighborhood known for start-ups and high profile ventures.
Since opening in 1998—during Phase II of what is today AT&T Park—MoMo's has earned a reputation as one of San Francisco's favorite destination restaurants, garnering countless "best of" year after year. Pre-game, post-game and throughout the year, MoMo's has earned its loyal following.
"The history of MoMo's is the history of the SOMA neighborhood," said Peter Osborne, MoMo's owner. "From the early light industrial and warehouse-only days and the building of PacBell park to the dot-com boom and bust and now the Giant's show-stopping championship, the pulse of the neighborhood is right here at King and Second."
The restaurant's long-time chef, Damon Hall, developed the Spring-inspired menu based on local providers and produce, combining new offerings with some enduring favorites such as MoMo's steak dinners. With a focus on protein-centered dishes paired with local produce, offerings are thoughtfully prepared to allow the Northern California flavors shine through.
"Our spring 2011 line-up builds on fresh, local produce delivered by local purveyors. The menu always captures market fresh, seasonal produce. As the weather warms in Northern California, we'll continue featuring the best of our resources," says Hall.
New MoMo's starters include Frito Misto, a mélange of fresh calamari, prawns, Meyer lemon and fennel; Grilled Skirt Steak Skewers served with ginger peanut slaw and a zesty Vietnamese dipping sauce; Smoked Pulled Pork Sliders tossed in a Carolina-style barbeque sauce piled onto warm Hawaiian sweet rolls and finished with creamy slaw; Prawn and Halibut Ceviche marinated in lime, coconut milk and yellow chili paste for a spicy, yet refreshing kick.
On the entrée-front, the new menu features a delicious 8-ounce American Kobe Cheeseburger served with a choice of cheese on a toasted Pan-O-Rama bakery bun and add-on options of applewood smoked bacon, caramelized cipollini onions or fried egg.
Fresh seafood highlights paired with local produce include Pan Roasted Alaskan Halibut with braised local artichokes, leeks and fennel or Ahi Tuna with spring garlic, delta asparagus, crispy fingerling potatoes and salsa verde. Other savory new entrees include Hand-Cut Pappardelle with Braised Wild Boar and Wild Mushroom Ragout topped with shaved Manchego cheese or a 12-ounce Brined Kurobuta Pork Chop paired with savory sourdough bread pudding. For some side-dish flair, guests can enjoy a dressed-up comfort staple of Mac and Cheese with Black Forest Ham; Wilted Organic Spinach; Grilled Delta Asparagus; and Braised Swiss Chard.
MoMo's most popular dishes remain on the menu, including MoMo's signature Crab and Shrimp Louis, MoMo's Caesar and Ahi Tartare. A wide selection of Chef Damon's famous Wood-fired Pizzas, including Creamy Cambozola and Prosciutto or Fennel Sausage and Seasonal Mushrooms are also a great seasonal choice.
MoMo's Martini Hour (4:00 – 7:00 p.m. daily) is the happy hour of the city and the baseball season. While happy hour is not available on home game days, when the Giants are away it is offered throughout the entire restaurant and guests can enjoy viewing the game on one of several big screen TVs in the bar or on their newly acquired, 9ft X 11ft retractable HD projection screen the main dining room. The SOMA restaurant's $4 martinis and bar bites consistently draw a standing room-only crowd of locals and visitors. With over 13 years serving quality fare at value prices, MoMo's is the perfect venue for locals and visitors alike to enjoy a martini and a meal or host a special event.
MoMo's is open Monday - Saturday from 11 a.m. to 10 p.m., Sunday from 10 a.m. - 9 p.m. and offers brunch Saturday and Sunday from opening until to 4 p.m. For reservations or information regarding private parties and their event facility please visit: http://www.SFMoMos.com or call 415.227.8660.
About MoMo's | Golden Bear Management Company
Peter W. Osborne opened MoMo's in 1998. Since opening day, the restaurant at the corner of Second and King Streets—prime real estate across from AT&T Park—has become an anchor to the ever-changing SOMA neighborhood. A spacious outdoor dining deck with its iconic olive heart sculpture (purchased in support of San Francisco General Hospital) draws a hip, lively crowd on sunny afternoons and on game days.
In addition to MoMo's, Osborne's Golden Bear Management Company restaurant holdings include Pete's Tavern in 2007, housed in a historic warehouse at 128 King Street voted by SFGate.com readers as the city's best sports bar in 2010, and Pedro's Cantina, a festive, 400-seat eatery that has emerged as a neighborhood favorite for its signature margaritas and Mexican street-style Taqueria fare. Osborne, together with his wife, Janet, and eldest son, Peter, manage the three SOMA restaurant venues. The three Golden Bear venues are located within 50 yards of each other along King Street.
Damon Hall serves as the Executive Chef at MoMo's. With over 20 years supervising some of San Francisco's busiest kitchens, the San Francisco native has earned a reputation for being a master griller. From his early days at Moose's, Inn at the Opera and Palio d'Asti, where he worked under master chef Craig Stoll, Hall has continue to refine his craft. Hall and Osborne conceptualized the menus at MoMo's and Pete's Tavern. Hall currently serves as Executive Chef at Pedro's, working with Chef de Cuisine Hugo Castaneda on refining the Mexican menu.
# # #