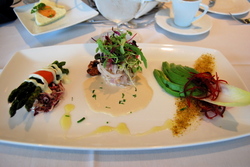 Month to Celebrate Dining Out
Grand Rapids, MI (Vocus) April 27, 2010
Grand Rapids / Kent County Convention & Visitors Bureau announced this month that it will launch Grand Rapids Restaurant Week from November 4 - 13, 2010. The dates were chosen to create a "Month to Celebrate Dining Out". The timing for Grand Rapids Restaurant Week occurs within the same month as the Grand Rapids International Wine and Food Festival to take place November 18 - 20 and follows the popular Art Prize Event to be held in Grand Rapids from September 22 - October 10.
During Grand Rapids Restaurant Week an estimated 60 of the best Grand Rapids restaurants will offer a 3-course menu or more for a fixed price of $20.10 in addition to their regular menu. A dedicated website to launch May 2010 - RestaurantWeekGR.com - will include information about the "3-course and more" dinners that each participating restaurant will offer, as well as, other helpful tips on how to book reservations, how to plan an outing with friends during Grand Rapids Restaurant Week, and commonly asked facts and questions.
The advantage offered during Restaurant Week is that restaurant goers can plan and save for multiple experiences at various restaurants over the 10-day event. In other cities groups make "dining out" within Restaurant Week an opportunity for social gatherings with friends. Many restaurant goers "weigh in" on the best offers from all of the restaurants using social media, such as Twitter and Facebook.
According to Doug Small, President of the Grand Rapids / Kent County Convention & Visitors Bureau, " Having experienced the creation of Restaurant Week in Denver while I was the Sr. Vice President of Denver's Convention & Visitors Bureau I saw the amazing turn out for Restaurant Week. Participating restaurants and restaurant goers both benefited from the experience and every year the event has grown stronger. We found that once people were introduced to a restaurant for the first time, they were much more likely to return to it after having a positive experience. We need to put a focus nationally on the fact that this community has the destination appeal that you can't find in other cities including creative, great restaurants. I think a Restaurant Week is a great way to do that."
Each restaurant will donate $1 from each 3-course Grand Rapids Restaurant Week meal purchased to create a scholarship for Secchia Institute for Culinary Education students at Grand Rapids Community College.
Randy Sahajdack, spokesperson for the Secchia Institute for Culinary Education commented, "We are excited to take part in this event with our own student run fine dining restaurant The Heritage located on the Grand Rapids Community College campus. When we learned that the Secchia Institute for Culinary Education would be the recipient of donations from restaurants participating in Grand Rapids Restaurant Week we were surprised and delighted."
Restaurant Week has been successfully launched in key U.S. cities since 2002. New York, Chicago, Boston, Denver, San Diego, Miami, Atlanta and Philadelphia are a few of more that 26 major cities nationwide, plus a growing number of smaller communities who host Restaurant Week. In addition to showcasing Grand Rapids' great dining options, Grand Rapids Restaurant Week will spur both locals and out of town diners to revisit old favorites and, best of all, try new places.
Restaurants wanting to participate in Grand Rapids Restaurant Week can email RestaurantWeekGR(at)gmail(dot)com to communicate their interest.
The public can follow comments about Grand Rapids Restaurant Week on Twitter using the hashtag #GRapRW.
# # #