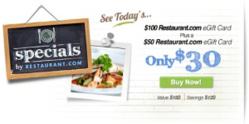 I love the Sweepstakes Draws! They are amazing! I hope to win something soon! I'll be back every day to make sure I do!
Los Angeles, California (PRWEB) November 20, 2012
Sweepstakes Ninja, a leader in the online sweepstakes arena, has entered a sweepstakes partnership with Restaurant.com. Consumers will have the chance to win $25 restaurant gift card for one of thousands of restaurants in the United States, in a fun and interactive sweepstakes website.
Restaurants.com is a comprehensive online directory of restaurants in the world. Thousands of restaurants nationwide are available through their service. Consumers can easily find the exact type of dining experience they are looking for their area. Sweepstakes Ninja offers consumers the chance to enter multiple sweepstakes through their innovative online sweepstakes draws (http://sweepstakesninja.com/sweepstakesdraw/). They are daily entry draws, that not only give consumers chances at winning amazing prizes, but also give companies daily branding exposure to consumers.
Through the sweepstakes draws, contestants have a chance of winning one of several $25 Restaurant.com gift cards. They can be used at one of more than 18,000 restaurants accessible from their website.
The sweepstakes promotion officially runs until December 1st, 2012. To increase their chances of winning, the entrant may share sweepstakes links with friends, family, and through social media. This is a win-win situation for both Restaurant.com and the entrant. Entrants increase their chances of winning award winning products, and more people learn about the Restaurant.com service. There have already been 10,000+ individuals introduced to the Restaurant.com website through Sweepstakes Ninja.
For more information about how Sweepstakes Ninja promotional marketing services deliver profits for companies, visit http://www.sweepstakesninja.com/site/company_sweepstakes/.
About SweepstakesNinja.com
SweepstakesNinja.com is the leading provider of fun and interactive sweepstakes. The company matches consumers with companies, in a fun and interactive manner. Consumers have the chance of winning amazing prizes. Companies benefit from daily exposure to their brands, word of mouth advertising, customer loyalty, and long term increases in profit. Visit http://www.sweepstakesninja.com/ for more details.