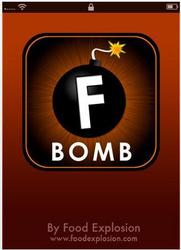 The app is wonderful for moms like me who live near (but not necessarily in) a big city. When traveling with the kids, moms often need to find a favorite restaurant fast, and fBomb does this easily
Douglasville, GA (Vocus) February 17, 2010
Popular food social network Food Explosion has just dropped the fBomb, that is the food bomb, a free iPhone application for finding favorite restaurants on the go.
Dedicated to all things food, from recipes to restaurants, Food Explosion ("For People Who Eat") has launched fBomb in order to simplify the search for dinner.
With fBomb, users choose their top-three restaurant preferences and enter the full name of each eatery. Users then touch the fBomb icon, and the application uses the iPhone's GPS feature to find the closest locations. FBomb also maps out the closest restaurant locations, making dinner easy to find. Users can store and edit their list of restaurants, customizing fBomb to suit their tastes.
In order to spice things up, fBomb also generates a Wildcard option to complement the restaurant list. Daring eaters can use the Wildcard feature to broaden their culinary horizons. An affiliate of OpenTable, fBomb users can book reservations at the Wildcard restaurants directly from their iPhones.
According to fBomb's founders, Mark & Lara Deatherage, the application provides "an excellent tool for people who like to explore new places but want to find their favorite sandwich, coffee, burger or casual-dining restaurant. The application is ideal for business travel, family vacations or learning more about the city you live in. FBomb will also provide a Wildcard option for those who are more adventurous, listing a nearby fine dining restaurant, and allowing the user to make a reservation through OpenTable right from the app!"
"The app is wonderful for moms like me who live near (but not necessarily in) a big city. When traveling with the kids, moms often need to find a favorite restaurant fast, and fBomb does this easily," adds Lara.
The Food Explosion network focuses on the social nature of food. Users connect over positive experiences at restaurants (no negative reviews allowed—if it's on Food Explosion, it's good) and at their own tables.
One early user raves, "Great app!!! Very useful while traveling. I'll never be without my favorite coffee or food. Like the Wildcard feature. A must have for anyone!"
Currently available only for the iPhone, Food Explosion plans to offer the application for Blackberry users in the near future.
FBomb is free for download at this time. Don't leave dinner to chance. Download fBomb at Apple's App Store today.
# # #