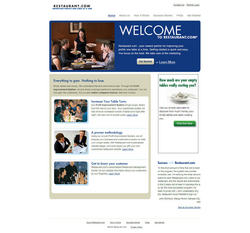 Arlington Heights, Ill. (PRWEB) June 25, 2008
Restaurants could be missing out on lost revenue potential to the tune of $100,000 or more per year. A quick calculation on Partners.Restaurant.com, the recently refreshed site for restaurants joining Restaurant.com, shows that amount based upon an average party size of three, $10 tab per person and open time of six days a week. Those figures multiplied by 12 total tables left empty per day equals: opportunity.
Restaurant.com today has re-launched Partners.Restaurant.com to offer this information and point out the no-cost benefits and profit potential from joining its program. Diners receive savings on their meal, while restaurants gain new customers. Last year, the company helped push more than $160 million of food sales for the restaurant industry through the program.
"Given current economic conditions, restaurant managers need to do everything they can to stay out in front and in closer touch with diners. Our goal here has always been to offer marketing services without any attached fees, and to show restaurants how valuable online customer introductions and feedback can be," said Cary Chessick, Restaurant.com president and CEO.
The company has partnered with thousands of restaurants nationwide to connect diners with promotional money-saving gift certificates. Value-added services such as online reservations and corporate partnerships, along with the gift certificates, help refer hundreds of thousands of diners from the site each month, while filling tables.
Partners.Restaurant.com includes a streaming video introduction showcasing program benefits such as Web pages built for participants with descriptions of cuisine and menu items. Other sections spell out post sign-up steps, including consultation with a Restaurant.com representative for customized program development. Frequently asked questions, success stories and testimonials from participating restaurant owners offer additional program insight.
The site describes a "Profit Improvement System" for restaurants to estimate profits based upon the number of seats to fill, overhead expenses, and amount of gift certificate inventory sold per month. Restaurant managers track their program activity through a password protected "Restaurant Management Center" to make sure sales and gift certificate redemption results meet their profit goals.
Once on board, restaurant managers also have access to survey results from diners about their dining experiences. The information can be used for gauging customers' dining preferences and staying connected with diners about future specials and offers. Out-of-pocket expenses are not required for restaurants to participate in the program.
A "Get Started" page at Partners.Restaurant.com includes a fill-in-the-blank form for restaurants to submit their request and join the program. Restaurant managers and owners can access more information by visiting http://Partners.Restaurant.com.
About Restaurant.com:
Restaurant.com connects restaurant seekers and food lovers to savings at more than 8,500 restaurants nationwide and to various online retailers. As the nation's leading online directory of restaurants and restaurant gift certificate provider, the company brings people together to relax, converse and enjoy well-prepared and -served meals at affordable prices. Restaurant.com has operated since 1999 and is based in Arlington Heights, Ill.
###