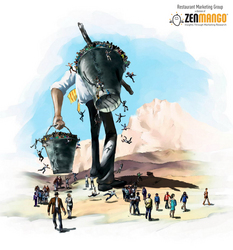 When a brand brings in 7% new customers but loses 6% of its customer base each year, the brand nets 1%. When a brand is able to reduce leaks by half, it can have a significant positive impact on the brand's financial performance
Centennial, CO (Vocus) May 22, 2010
Amid fierce competition in a customer-driven market, restaurant industry brands have met challenges posed by the economic realities of the marketplace by stepping up and offering customers an improved customer experience, according to the fourth annual 2010 Leaky Bucket® Study, which measures the likelihood of customers returning to a restaurant brand. Published by Restaurant Marketing Group , a division of ZenMango , the study analyzes a brand's "leak size": the higher a brand's leak score, the more customers that brand is losing; lower leak scores indicate a higher level of customer retention.
With 2,483 respondents, the study evaluated 146 of the nation's leading restaurant brands in March 2010. Once respondents were identified as unlikely to return to a brand (less than 50% certain) they were evaluated on the primary return intent factors including quality of food, menu, atmosphere, price/value, location, service and family friendliness. Divided among 19 brand categories, specific brands with the best leak scores included Bob Evans in the Family Style category, Seattle's Best Coffee in the Coffee category, and Corner Bakery in the Bakery category. Additional highlights from the study's findings include:
•Overall restaurant industry leak size improved in 2010. From 2008 to 2009, the industry saw its leak size increase from 29% to 36%. Yet the 2010 leak size is down to 32%, which indicates that most restaurant brands studied have recovered from significant customer base leaks in 2009.
•Restaurant customers continue to be cautious about how often they eat out. 48% of restaurant customers say they are eating out less often.
•The restaurant industry continues to be a customer's marketplace. 39% of restaurant customers feel that more restaurants are competing for their business.
•Primary drivers for choosing restaurants are (in order of importance): pricing specials/deals; quality of food; and convenience of location.
•Faced with an abundance of choices, customers are responding by changing their behavior. 35% of respondents said they are purchasing more prepared food from grocery stores, as opposed to restaurants, than they have in the past.
"The decrease in overall leak size can be attributed to those brands that recognize that the only way to retain customers is to focus on the guest experience. In a time of fierce competition, these brands must make sure that every customer receives a compelling reason to come back," said Arjun Sen, President of Restaurant Marketing Group.
According to Mr. Sen, a brand's profitability is directly linked to leaks in its customer base. "When a brand brings in 7% new customers but loses 6% of its customer base each year, the brand nets 1%. When a brand is able to reduce leaks by half, it can have a significant positive impact on the brand's financial performance," he said.
For an overview of the Leaky Bucket report as well as leak scores for the 146 restaurant brands studied and category insights, please visit http://www.restaurantmarketinggroup.com/.
Restaurant Marketing Group, a division of ZenMango, provides insights to the restaurant industry through marketing research. With more than 18 years of experience helping restaurant brands succeed, RMG recognizes that every brand's problem is unique and deserves a unique solution with leading edge, actionable results. A key component of the RMG plan is the integration of marketing and operations to help a brand succeed. More information may be found at the RMG website or at http://www.zenmango.com/.
# # #