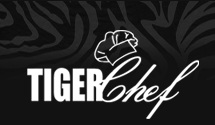 Besides offering lower prices on most items, the site has easier navigation and better search filters.
Suffern, NY (Vocus/PRWEB) February 22, 2011
NYC Restaurant Week in New York City is in full swing. Cities around the country are celebrating along with New York by offering dining at top restaurants at a fraction of the regular price. TigerChef, the restaurant equipment and supply store, has finished a new web design and restaurant blog to go along with the celebrations. The site has improved the online shopping experience for restaurant owners and added new tips and products for home cooks.
New on the Blog: 10 Things to Keep in Mind when Dining Out
Besides offering lower prices on most items, the site has easier navigation and better search filters. Product pictures and descriptions were updated to make them more clear and to make buying easy. Customers can check their order history.
A My Account feature has been added so customers can:

Track packages
View previous purchases
Leave and read reviews on restaurant products
Return items
Add items to a wishlist
A new residential section geared towards the home cook with small home appliances and cookware
Price guarantee - we match every price provided our conditions are met
Site features a live chat and excellent customer service
The blog at http://www.tigerchef.com/blog/ offers food and tidbits for thought from A-Z. It's full of great recipes and tips for both residential and commercial kitchen. In the post: 6 Tips to Consider Before Opening a Restaurant, TigerChef helps new restaurants navigate the daunting process of opening. For example, a restaurant takes more electricity than other businesses, so it's vital to make sure the location has enough electricity to power all of the appliances.
About TigerChef
http://www.TigerChef.com is the leading online source for restaurant equipment and supply. Our vast catalog offers commercial grade products for bars, catering, bakeries, hotels and restaurants. From cookware and equipment to knives and ladles, you'll find what you need right here. Best of all, you get great discounts, no minimum purchase requirements on most manufacturers, and pay no inflated ship costs. Best of all, the site offers free shipping on all orders over $99.
Find us on Twitter @TigerChef or search for us on Facebook.
Press Contact
Moe Mandel
845-247-5230
info at tigerchef.com
# # #