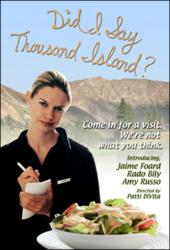 Right or wrong, I used my retirement fund to make the movie and although there haven't been any financial rewards, I know I have helped people in ways I never dreamed of!
Elkhorn, WI (PRWEB) October 17, 2008
Written in Ireland, shot in the Rocky Mountains of Colorado and finished in Wisconsin, this movie has traveled about as much as many of the characters in the movie and real people in the restaurant industry do. Premiered in Colorado in January 2007 and received well, DiVita hopes to find a home for the movie that paints life as a server in a realistic way.
As she told Craig Wilson in an interview in USA Today movie article she felt called to make a movie that showed the restaurant community in a positive light. Without any financial backing, knowledge of the film industry or experience in making movies, this movie couldn't get any more independent if it tried, yet film critic David Malsch praised the movie. It was a "pay as you go" film--cast with locals and even tourists who were pulled in from the street if someone didn't show up. Shot in restaurants and homes belonging to friends and put together by spending months on a computer in a pal's basement, using music from local musicians, the result can be found on the restaurant movie website
What's wrong with being a waiter or a waitress? Divita asked Jim Fleming during an interview for NPR Radio aired on St. Patrick's Day 2007 and again near National Waitress Day--May 21, 2008 both of which were appropriate days. What's wrong with it? Over 12 million people who work in this country's largest private employer would probably tell you: Nothing. It's a great life.
DiVita had articles in Nation's Restaurant News and The National Restaurant Association Newsletter as well as local papers, appeared on TV in Milwaukee, and was invited to speak at Chain Leader Conference in California in the fall of 2007. She had hoped that someone in the industry would see the validity of her movie and help promote it. That hasn't happened yet, but DiVita is not giving up hope. "Right or wrong, I used my retirement fund to make the movie and although there haven't been any financial rewards, I know I have helped people in ways I never dreamed of!" People have been inspired by her story to follow their heart and pursue their dreams and she has received many emails saying thank you for the movie and its messages.
DiVita used parts of the movie to make a promotional DVD that is included in packets by the Federation for Dining Room Professionals and some hospitality schools have purchased the movie for use in training as well. Paul Paz with Waiter's World restaurant industry site has been instrumental in promoting the movie in his forums and newsletters, and a Colorado restaurant consultant stated, "If you were trying to make a movie that showed how the restaurant industry really is, you nailed it."
To DiVita, it was worth the adventure of hard work and crazy experiences, knowing that she has helped some people in the restaurant business. She has joined the new hospitality industry social network and she hopes it will help raise awareness of the film. She is thrilled that her movie is finally listed on IMDb and is hoping that more people will be exposed to it and enjoy the film. She knows she can't change the world, but as Dave Barry has said, and corporate people know--how someone treats a waitress speaks volumes about the person, and maybe after people see the film, they will stop and think.
###