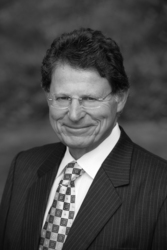 Laguna Niguel, CA (Vocus) April 13, 2009
Premier restaurant industry experts Synergy Restaurant Consultants is pleased to announce that veteran restaurant industry executive Phil Ratner has joined the firm as Managing Director. Synergy is a nationally recognized restaurant consulting firm that holds a 20 year legacy of success and a list of over 200 major clients.
Mr. Ratner served as a CEO for more than twenty years in the casual-full service restaurant industry segment leaving a record of successful turnarounds with major chains. His financial expertise and leadership skills most recently were highlighted as President and CEO of Marie Callender's Restaurants where he improved both sales and profits and successfully merged the company with Perkins Family Restaurants.
Mr. Ratner's record of highly successful restaurant turnarounds includes Acapulco Restaurants where he served as President and CEO for nearly ten years, taking the nearly bankrupt company and doubling its size to $90 million in sales with a 10 percent EBITDA. As Chairman, President and CEO of Spaghetti Warehouse he reduced debt from $19 million to $6 million in less than four years. He improved earnings per share from a low of $.04 to a high of $.34 by the time the company was sold.
Phil has both a Bachelors Degree and an M.B.A from Cornell University. He has served on the boards of five publicly traded restaurant companies. In his role with Synergy Restaurant Consultants, Mr. Ratner will spearhead restaurant turnaround efforts and provide financial, operational, and structural expertise for major restaurant, hotel and hospitality chains.
About Synergy Restaurant Consultants: Synergy is a nationally recognized firm that holds a 20 year legacy of success and a list of over 200 major clients. As a leading authority on restaurant operating efficiencies, menu development, new restaurant start-ups and results-driven training programs, Synergy's mission is to help restaurant organizations maximize their financial performance by reducing operating expenses and driving guest frequency.
###