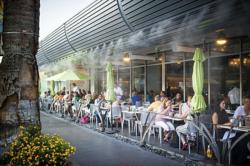 The lineup for Restaurant Week is truly spectacular this year and I know that everyone is excited about it.
Palm Springs, CA (PRWEB) May 29, 2013
Brad Schmett, Broker Associate with Luxury Homes by Keller Williams and local expert on Valley real estate made an announcement today highlighting the increase in demand for luxury homes and condos thanks to the 2013 Palm Springs Restaurant Week festivities. Always an anticipated event, the 2013 celebrations will be bigger than ever with the addition of several new eateries to the always exalted itinerary.
Said Schmett recently, "The lineup for Restaurant Week is truly spectacular this year and I know that everyone is excited about it. My office is looking forward to being busier than usual thanks to the lowest interest rates I have seen in my lifetime. The kind of clients who appreciate our fine dining establishments also know the value of our luxury homes and they come to Palm Springs to indulge in both. We welcome them."
In recent months the Coachella Valley has seen increased demand for homes as low interest rates, buyer friendly loan packages and a stellar home inventory combine to make it a buyer's market. Excitement builds as upcoming events bring in visitors and tourists who very often decide to purchase second or vacation homes. The famous Palm Springs area has grown tremendously in recent years.
Top restaurants, hotels and attractions across the Coachella Valley offer special dining packages, special rates and nouveau cuisine for your pleasure from May 31 through June 16, 2013. Some of the top names in the valley will participate including Melvyn's, Catalan, the Chop House, Alicante, Copley's on Palm Canyon, Johnny Costa's, Kaiser Grille, LULU California Bistro, LG's Steakhouse, Shame on the Moon, Wang's and Trio. Be sure to call ahead for reservations and information on specials.
For more information on the 2013 Restaurant Week celebrations visit http://www.palmspringsrestaurantweek.com
To find out more about investing in Palm Springs, CA real estate visit http://www.palmspringsrealestateinfo.com
About Luxury Homes by Keller Williams: Luxury Homes by Keller Williams in Palm Springs is an exclusive, elite and sophisticated group of real estate consultants raising the bar for service in the Palm Springs area residential real estate market.