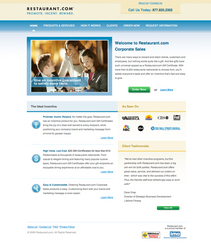 We've had other incentive programs, but this partnership with Restaurant.com has been a big win-win for both parties. Restaurant.com offers great value, service, and delivers our orders on time--which are vital to the success of this effort
Arlington Heights, Ill. (PRWEB) August 26, 2008
Marketing executives feeling the pinch of a tough economy and reduced budgets need to spend their dollars wisely. That's why Restaurant.com is encouraging them and others to pay heed to the wholesale savings now available through its new business-to-business Web site. The company today has launched http://CorporateSales.Restaurant.com where $25 gift certificates are available for $10 or less, a cost that packs 60-percent added value that's valid at thousands of restaurants nationwide.
"Now is the right time to show what some of our customers have known for years--that restaurant gift certificates are a perfect way for companies to acquire new customers and sell more products. Our program stands out with clear cost advantages and a broad national restaurant selection for recipients," said Cary Chessick, Restaurant.com president and CEO.
Restaurant.com partners with companies to offer restaurant gift certificates, cards and codes as sales incentives, customer acquisition tools and client gifts for every type of business. Since 2004, the taste-maker for restaurant gift certificate savings has developed corporate sales and marketing programs mainly offline as a brick and mortar service. Through the new site, the company expands its Web presence and reach for marketers to obtain restaurant gift certificate savings. Businesses can reward their customers with a shopping cart full of credit to spend on restaurant gift certificates at the Restaurant.com restaurant of their choice.
"We've had other incentive programs, but this partnership with Restaurant.com has been a big win-win for both parties. Restaurant.com offers great value, service, and delivers our orders on time--which are vital to the success of this effort," said Dave Drap, director of strategic marketing for Lifetime Fitness.
The Web site hosts information about the customizable dining products, which plug into promotional, loyalty and incentive marketing campaigns. Restaurant.com gift certificates and cards can be customized with a company logo or marketing message. Recipients visit a redemption only Web site and enter a unique code to apply the credited amount toward restaurant gift certificates. Redemption value, not cost, is displayed on gift certificates and cards. The site also shows a preview of more than 8,500 participating restaurants nationwide where recipients can select to redeem.
Retailers, for example, present $25, $50, $75 and $100 denomination restaurant gift certificates as rewards for customers who spend a minimum amount, sign up for membership or complete an action. Marketing research companies tap the program to motivate consumers to take surveys. Realtors use Restaurant.com gift certificates as an incentive to lure house hunters to open houses and as seasonal, stay-in-touch gifts. Restaurant.com counts Lifetime Fitness, United Airlines, Staples, GMAC Real Estate, Office Depot and Sears among hundreds of corporate sales clients.
For marketers, an "Order Now" page includes a fill-in-the-blank form to submit a request and begin ordering through a Restaurant.com Corporate Sales representative. More Restaurant.com Corporate Sales information is available at http://CorporateSales.Restaurant.com.
About Restaurant.com:
Restaurant.com connects restaurant seekers and food lovers to savings at more than 8,500 restaurants nationwide and to various online retailers. As the nation's leading online directory of restaurants and restaurant gift certificate provider, the company brings people together to relax, converse and enjoy well-prepared and -served meals at affordable prices. Restaurant.com has operated since 1999 and is based in Arlington Heights, Ill.
###