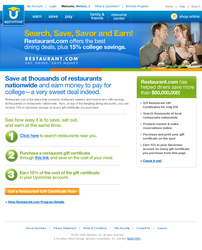 Upromise wrote the lesson plan for online savings and college education
Arlington Heights, Ill. (PRWEB) September 17, 2008
Restaurant.com has announced that it is teaming up with Upromise, the largest private source of college funding contributions, to help families save instantly for both dining and education. Now, Upromise's nine million members can access Restaurant.com gift certificates that offer more than 60-percent savings, while earning a 15 percent reward for college.
"Upromise wrote the lesson plan for online savings and college education," said Cary Chessick, president and CEO of Restaurant.com. "Our vision here is to empower people through savings and to advocate smart, affordable choices when spending. We're excited to expand the cash back rewards for their members and for the added exposure to our thousands of partner restaurants."
Upromise members search Restaurant.com by state, zip code and area to select participating restaurants. After choosing, members purchase restaurant-specific gift certificates for less than face value; $10 gift certificates are available for $3; $25 gift certificates cost $10; $50 gift certificates sell for $20; $75 gift certificates are available for $30, and $100 gift certificates are $40. Purchases made are rewarded with cash back deposits into the member's Upromise account.
"Restaurant.com provides Upromise members including students, parents, grandparents, and virtually every family member another innovative way to save money now and for college when purchasing a restaurant gift certificate either for themselves or for any gift-giving occasion," said Kelly Christiano, executive vice president, Upromise.
Through the program, families can immediately stretch their dining budgets, while investing in education. Americans, for example, spend $1,078 per person or $4,312 each year for four people on food away from home, according to the National Restaurant Association. Using Restaurant.com and Upromise, a family of four could save nearly $650 in annual college savings, while having $10,780 in purchasing value through gift certificates to use while dining.
Upromise members benefit by receiving the college cash back reward, gift certificates with money-off value and selection of more than 8,500 participating Restaurant.com restaurants. Members can also receive added short-term email promotions that increase the amount of savings for gift certificates. Additional program and membership information is available at http://www.upromise.com/restaurantdotcom.
About Upromise
Launched in April 2001, today Upromise is the largest private source of college funding contributions in America , with more than 9 million members and $425 million in member rewards. Membership is free and can help families save money for college while making everyday purchases of products and services at more than 21,000 grocery and drug stores, 14,000 gas stations, 8,000 restaurants, as well as thousands of retail stores, and more than 575 online shopping sites. Upromise partners include Citi®, ExxonMobil Corporation, Bed Bath & Beyond®, McDonald's®, JCPenney.com, LandsEnd.com, Sears.com, and hundreds of others. Upromise also makes it easy for families to start their own college savings strategy through tax-advantaged 529 college savings plans offered through Upromise Investments, Inc. or by using Upromise contributions to help pay down eligible student loans. Upromise is a wholly owned subsidiary of SLM Corporation (NYSE: SLM), commonly known as Sallie Mae, the nation's leading provider of saving-and-paying-for-college programs. Upromise is headquartered in Newton , Mass., and has more than 350 employees. For additional information visit http://www.Upromise.com.
About Restaurant.com
Restaurant.com connects restaurant seekers and food lovers to savings at more than 8,500 restaurants nationwide and to various online retailers. As the nation's leading online directory of restaurants and restaurant gift certificate provider, the company brings people together to relax, converse and enjoy well-prepared and -served meals at affordable prices. Restaurant.com has operated since 1999 and is based in Arlington Heights, Ill.
# # #