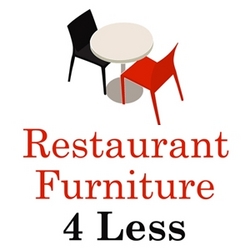 Every restaurant owner and hospitality professional will have access to affordable restaurant furniture online.
Canton, GA (PRWEB) July 6, 2010
Belnick Inc., headquartered in Canton, today announces the launch of the brand new e-commerce site, RestaurantFurniture4Less.com. Designed to help cost-conscious restaurateurs and hoteliers find comfortable, high quality restaurant furniture and seating for less. RestaurantFurniture4Less.com offers an assortment of discount restaurant chairs, tables, bar stools, booths, and restaurant furniture accessories.
With such a wide selection of furniture and accessories to choose from, restaurant owners will be able to make this site their one stop shop for all their front of the house furniture needs without ever leaving their computer desk. They will also be able to buy high-quality, dependable restaurant furniture brands from manufacturers such as AC Furniture and American Tables & Seating.
"Our quality restaurant furniture is not only affordable, it also offers restaurant owners the opportunity to outfit their restaurants in a memorable décor and give customers a comfortable, positive dining experience which is part of the key equation to getting repeat dining customers," says Gary Glazer, RestaurantFurniture4Less.com's Founder.
It's never been easier or more affordable to purchase new restaurant furniture for the lowest possible price on the Internet. The web site's easy to use design features popular hospitality furniture categories and search functionality. With a top scrolling description, large product category buttons, an easy to read left-side navigation, and enlargeable product images, RestaurantFurniture4Less.com provides the customer with a user friendly, quality shopping site. Questions and large purchase orders can be called in to the web site's dedicated customer service line. The site even offers extra incentives to buy with a competitive lower price guarantee and fast shipping with most items shipping within 24 hours of order placement.
"With more and more busy people eating meals outside of their homes in restaurants, we wanted to offer every restaurant owner and hospitality professional access to affordable restaurant furniture online," says Glazer. "We are very pleased with the launch of our new site and anticipate quick results as we offer fast shipping restaurant furniture products for less than our competitors."
About RestaurantFurniture4Less.com:
RestaurantFurniture4Less.com is an online furniture resource for restaurant owners, hoteliers, and hospitality entrepreneurs. The web site focuses on offering restaurant furniture, chairs, bar stools, sofas, tables, and accessories for the restaurant and hospitality industries. As a subsidiary of the Canton-based Belnick Inc., RestaurantFurniture4Less.com continues the tradition of offering affordable furniture in a wide variety of styles at discounted prices with fast shipping. Belnick, Inc., founded in 2001, is a leader in the online retail market and has been named on the Inc. Top 100 Retail Companies list in 2008.
###