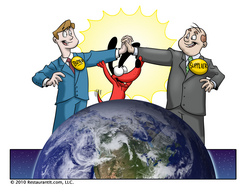 Whatever a foodservice buyer needs, they can find 'it' here.
Washington, DC (PRWEB) March 21, 2011
RestaurantIt.com (http://www.restaurantit.com), a finding engine for foodservice buyers™, announced today the beta launch of its new global foodservice industry marketplace. This virtual marketplace is a one-stop customized sourcing tool designed to connect quality foodservice buyers, suppliers and distributors from around the world.
Thanks to new technology, RestaurantIt.com cuts through the barriers to buying and selling with which those in the foodservice industry have traditionally coped.
"We saw how hard it is to source products and services quickly and easily," says RestaurantIt.com Director of Marketing Kristin Thistle. "The old methods – tradeshows, catalogs and trade journals – don't cut it in the 24/7 atmosphere we're in today. Competition is fierce, and buyers don't have time to wait until the next trade show or for the next catalog to make their choices."
RestaurantIt.com currently represents more than 20,000 foodservice buyers, including restaurateurs and those in the institutional foodservice dining space, and more than 10,000 restaurant suppliers and restaurant distributors. The buyers, who range from mom-and-pop operations to the largest multi-national corporate chains, use RestaurantIt.com to locate a broad range of goods and services that fit their individual needs. They can search directly for what they want to buy, no matter how niche or customized, and will be connected to the supplier that best meets their needs.
"The idea is for 'it' to stand for literally anything a foodservice buyer is looking for," says Thistle. "You could replace 'it' with restaurant equipment, restaurant supplies, or even restaurant consultant. Whatever a foodservice buyer needs, they can find 'it' here."
Suppliers include local, regional, national and global outfits that provide a diverse range of products and services. Suppliers can create two types of listings: basic and enhanced. Basic listings are free and include company name, phone number, physical address, relevant product categories and a brief company description.
Enhanced listings cost $495 per year and include the basic features, but also more comprehensive features. Among other capabilities, enhanced listings allow suppliers to receive direct notice of buyer needs; upload video, photos and custom articles to convey their personality, experience and knowledge. Suppliers can even list promotions and deals to boost sales with discounts, rebates and special offers.
"We want RestaurantIt.com to be a welcoming place for buyers, suppliers and distributors," says Thistle. "We're continuing to work with the members of our community to enhance the site and add features that will grow and change with our members' evolving needs."
About RestaurantIt.com
RestaurantIt.com is a finding engine for foodservice buyers™ and is a one-stop virtual foodservice marketplace. Its search capabilities and enhanced listings make this marketplace the best way for foodservice buyers to connect with quality foodservice suppliers and distributors from around the world, around the clock. Anything your restaurant needs, you'll find It here!™ Learn more at http://www.RestaurantIt.com.
###