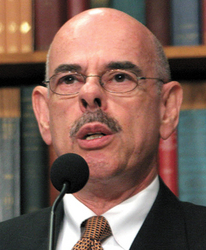 It's a terrible thing. I had achieved that (RLS) through a back injury.
Atlanta, GA (PRWEB) July 27, 2009
At the beginning of this month, California Rep. Henry Waxman was released from Cedars-Sinai Medical Center in Los Angeles after treatment from fainting in his office. While on C-SPAN, Waxman was recorded saying that Restless Legs Syndrome is a disease created by pharmaceutical companies to make more money. In a video of this interview that has circulated on YouTube and news sites throughout July, Waxman described his experience arriving at the hospital after fainting:
"Somebody asked me, 'Why is your knee jerking?' And I thought I was making a joke, and I said, 'Well I have Restless Leg Syndrome.' Now, I don't think there is such a thing as restless leg syndrome. I'll probably hear from all those people who have it. But I thought that Restless Leg Syndrome was a disease that was created by a drug company that wanted to sell a drug for the disease they had created. And I was making a joke. Well, when I got out of the hospital, I looked at my record, it said, 'He claims to have Restless Leg Syndrome.' Well, I don't know if there is such a thing or not. I don't have it. But a lot of people start thinking they have medical problems because they've seen too many of these commercials. I don't think that's doing the public a lot of good. It's certainly making the drug companies richer, but it's not doing a lot of good for the public."
Ironically, right after this statement, a caller from Virginia phoned in to deny Rep. Waxman's point. This caller, named Scott, said, "Rep. Waxman, as someone who does have Restless Leg Syndrome I can tell you that it does exist." After laughter from Waxman, the caller continued, "It's a terrible thing. I had achieved that (RLS) through a back injury."
For those who struggle daily with the disease, Rep. Waxman's statement is anything but humorous. Ms. Elaine Gayle, a woman from Atlanta diagnosed with RLS said, "Restless Leg Syndrome definitely does exist. My sister has it so bad that she sometimes has to stop her car just to walk around and move her legs. When you have RLS, you just can't keep your legs still. At night it's a problem as well. Someone like Rep. Waxman dismissing it is simply a shame."
Russell Rosenberg, Ph.D., the founder and director of The Atlanta Sleep Medicine Clinic, said, "Some people just don't understand how devastating and real RLS is until they have it themselves. Rep. Waxman's comments are a sign of how people continue to underestimate how great an effect a sleep disorder can have on your well-being."
Dr. Michael Lacey, a board certified sleep doctor who treated Gayle, agrees, "Rep. Waxman's interview is an excellent example of the dismissive nature with which truly disabling sleep disorders have been treated all too often by the uninformed, leading to patients being mislabeled or ignored altogether, rather than receiving appropriate and effective treatment."
Despite, an increase in the availability of sleep services in the United States, there is still a lack of awareness about sleep disorders among the general population. According to the Restless Leg Syndrome Foundation, nearly 10% of the U.S. population may have RLS. Although many in this group have a mild form of this disorder, millions of Americans struggle daily with severe effects of RLS.
In describing her own symptoms, Gayle said, "When you have RLS, you know when you are getting tired because your legs begin to get really uncomfortable. You feel like you have to move your legs around. At night, you often unconsciously move your legs around like you are walking or running. This can be disruptive to not only your own sleeping patterns, but also to your sleeping partner."
Symptoms
So how can you find out if you or someone you know has Restless Legs Syndrome? The following symptoms are all possible indicators:

An irresistible urge to move your legs when resting, sitting, or lying down
A strong desire to move your legs that is relieved after walking around
Involuntary leg movements while awake or asleep
Tiredness or inability to concentrate during the day
Difficulty falling or staying asleep at night
Treatment
Although some primary care physicians diagnose and treat RLS, sleep specialists and neurologists often have more specific knowledge and experience with the disorder. At the Atlanta Sleep Medicine Clinic, Dr. Michael Lacey, a board certified sleep doctor on staff, frequently consults with patients experiencing RLS as well as those with other sleep disorders like sleep apnea, insomnia, and narcolepsy.
Even though a complete cure for RLS has yet to be found, there are FDA-approved drugs on the market that can minimize the symptoms of RLS. There are also lifestyle changes and non-drug treatments that can help. For instance, some vitamin deficiencies can elevate the severity of RLS symptoms. In addition some medications may make RLS worse. Eliminating caffeine and alcohol intake and keeping your diet healthy and balanced may also help minimize the effects of RLS.
About The Atlanta Sleep Medicine Clinic
The Atlanta Sleep Medicine Clinic is a full service diagnostic sleep center that was established in 2008. It was founded by one of the early pioneers in sleep medicine, Russell Rosenberg, Ph. D, D.ABSM, and his longtime associate, Michael Lacey, MD, D.ABSM. The Atlanta Sleep Clinic is Georgia's first clinic to be affiliated with the well-known Sleep School, The Atlanta School of Sleep Medicine and Technology. For more information about The Atlanta Sleep Clinic, please visit the clinic's web site at http://www.atlantasleep.com. Media Contact: Laura Baareman, The Atlanta Sleep Medicine Clinic, (770)883-6679.
# # #