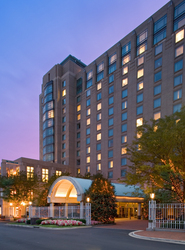 Reston, VA (Vocus) November 22, 2010
The culinary and engineering teams at the Hyatt Regency Reston hotel will once again work together to create a Reston Town Center holiday masterpiece, the well-known holiday Gingerbread Village. The gingerbread village will debut on Friday, November 26, 2010 in the hotel lobby in concert with the annual Reston Town Center Holiday Parade and Tree Lighting event.
In honor of the 20th anniversary of Herndon area hotel and the gingerbread village, this year's display will include a new piece – Hyatt Regency Reston! A gingerbread version of the hotel will be introduced to commemorate this 20-year tradition. The gingerbread village will be on display from November 26-December 26, 2010 in the main lobby of Hyatt Regency Reston.
Five days in the making, this delicious creation consists of 145 pounds of sugar, 100 pounds of flour, 2 gallons of molasses and honey, 1½ pounds of cinnamon and nutmeg, 15 pounds of pretzels, and 90 pounds of candy. The sweet aromas of gingerbread and candy embrace guests as they step through the front doors of the hotel. The seasonal scene is a favorite holiday tradition for the many patrons that visit Hyatt Regency Reston and Reston Town Center.
Conveniently located in Reston Town Center, the AAA Four Diamond Hyatt Regency Reston offers 518 elegantly appointed spacious guestrooms, including 12 suites, a full-service restaurant and lounge, Market Street Bar & Grill, and 32,000 square feet of opulent meeting and event space, including the 12,300 square foot Grand Ballroom. For reservations or information, call Hyatt Regency Reston at 703-709-1234 or visit us at http://www.reston.hyatt.com .
###