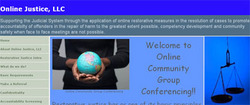 Restorative justice programs have earned the confidence they need within both the judicial system and the greater community to make it possible for us to bring this process to the Internet
Newcastle, WY (PRWEB) September 30, 2008
The most common understanding of the American criminal justice system is that of an adversarial system wherein the state assumes the role of the victim in legal proceedings. But a vastly different, community-based criminal justice theory, called restorative justice, encompasses a growing social movement in the world of law and order. In response to the increasing demand for this approach, a new company, Online Justice, LLC, has created tools that allow restorative justice conferencing online.
The restorative justice model involves the victim and offender of a crime, along with all affected community members, meeting to discuss and determine appropriate means by which the harm of the crime can be repaired and the offender can be held accountable. Rather than relinquishing the authority of the criminal justice process entirely to state officials, restorative justice programs keep most of the communication and decision making within the group of those who are most directly affected by the crime.
Having the ability to pursue restorative justice online is essential to the expansion and acceptance of restorative justice as an effective criminal justice approach. It is usually preferable that parties in restorative justice cases engage in face-to-face conflict management, but having the option to engage in restorative justice conferencing online is critical when those parties are geographically dispersed.
"Restorative justice programs have earned the confidence they need within both the judicial system and the greater community to make it possible for us to bring this process to the Internet," explains Loree Greco, owner and facilitator of Online Justice, LLC.
Onlinejustice.net works by providing virtual meeting rooms in which offenders, victims and community members can explain their actions, feelings and circumstances. After initiating restorative justice online through honest discussion, all involved parties create a plan for repairing harm to the greatest extent possible. Online Justice, LLC monitors the process and sends certificates of completion to all stakeholders following each session.
"The development of the restorative justice model into an online dispute resolution format will no longer deny restorative responses when face-to-face meetings are not possible in the resolution of offenses," says Greco.
To learn more about the restorative justice counseling online tools offered by Online Justice, LLC, please visit onlinejustice.net.
About Online Justice, LLC:
Online Justice, LLC promotes and facilitates the practice of the restorative justice model by making it possible to pursue restorative justice online. When face-to-face meetings among crime victims, offenders and affected community members are not possible, all parties can use the tools on onlinejustice.net to share virtual meeting space and interact in real time. The site's online restorative justice programs make results-oriented justice more accessible, efficient, affordable and responsive to the nationwide community.
###