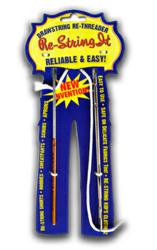 (PRWEB) February 22, 2013
American inventors have throughout history been a catalyst for American progress, acted as problem solvers, made possible improved standards of living and simply made daily tasks easier.
Re-String It, an innovation by American inventor Chad Archibeck, exemplifies this.
Re-String It is a universal drawstring re-threader that quickly and easily re-threads anything with a string and solves the annoying and time consuming problem of drawstrings coming out of hoodies and pants. It has been called a 'must-have' for any household by numerous users, media and bloggers.
"Re-String It solves a problem that everyone can relate to which may appear to be a minor annoyance but causes big headaches—for everyone," said American inventor and President of Re-String It Chad Archibeck. "Re-String It saves people time (from having to use safety pins) and money (from having to buy new sweatpants or hoodies)."
The heavy duty, yet ultra-slim Re-String It tool uses a tube with an 18-gauge wire to loop drawstrings back through sweatpants and sweatshirts, as well as industrial laundry bags and medical scrubs. Click here to see how it works.
Inventor's Day was first designated in 1983 by then President Ronald Reagan in honor of Thomas Edison's birthday and is recognized yearly during the second week of February.
Re-String It is available for purchase on their website and at Amazon.com. Those who purchase Re-String It this February can take advantage of free shipping by using offer code "freeshipping."
For more information on Re-String it or to purchase with free shipping through March 1, go to http://www.re-stringit.com. Also, join the Re-String It Facebook community for more crafty ideas at Facebook.com/restringit.
About Re-String It
Re-String It is a product of CWA Enterprises, which was created to bring the perfect must-have domestic tool to market. Re-String It is a heavy duty, versatile re-stringer that is easy to use and won't damage clothing. The rounded edge on the adjustable loop enables use on delicate materials.