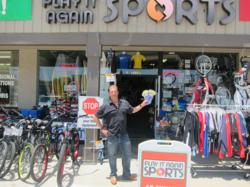 Instead of losing the entire value because you have to throw it out, you can now use Re-String It to repair the item for sale or use.
Los Alamitos, CA (PRWEB) July 26, 2012
CWA Enterprises is proud to announce its first multi-franchise distribution agreement with 30% of the international Play It Again Sports (PIAS) franchise stores for sale of its product Re-String It. Play It Again Sports has a franchise operation with stores across the United States and Canada. The owners of each store buy and sell quality new and used sports and fitness equipment. Re-String It is an innovative tool that allows people to re-thread almost anything, though it was originally designed for re-threading the drawstring through sweatpants.
Bill Phillips is a Play It Again Sports store owner in Los Alamitos, CA who first discovered Chad's product and sold 24 units almost immediately. "I knew this product would be a perfect fit for a store that finds a second life for so many items. Occasionally you'll want to sell or buy a piece of equipment or sports clothing that is missing a thread or strand of some kind," said Chad. "Instead of losing the entire value because you have to throw it out, you can now use Re-String It to repair the item for sale or use."
Bill contacted the corporate headquarters of Play It Again Sports, to let them know how popular Re-String It had been in his store. He wanted the other franchise owners to have a chance to sell just as many, if not more. Chad was then invited to the PIAS Bi Annual Franchisee Show, where Re-String It was purchased by 30% of their franchise locations.
"Product has shipped and I am very optimistic about the future between Re-String It and PIAS," said Chad. "The PIAS business model promotes selling of new and used equipment. Re-String It saves any equipment with drawstrings, and a majority of athletes clothing has drawstrings. As the relationship between PIAS and Re-String It grows, I hope to one day have all 375 stores between the USA and Canada selling my invention."
Re-String It uses a 4-millimeter tube with an 18 gauge wire and uses aluminum material, which means it won't rust and the adjustable tip saves users from having to tie the drawstring into a knot before Re-String It loops the cord back through the pants. At the 2012 Invention & New Product Exposition (INPEX) in Pittsburgh, Pennsylvania, Chad was awarded a gold medal for the Re-String It product.
About the Company:
Re-String It is a product of CWA Enterprises, which was created to bring the perfect must-have domestic tool to market. Re-String It is a heavy duty, versatile re-stringer that is easy to use and won't damage clothing. The rounded edge on the adjustable loop enables use on delicate materials. Visit http://www.re-stringit.com for more information.