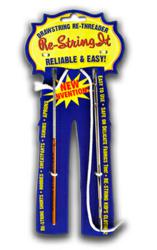 Being a parent, I hope to never have to use any emergency plan, but as an inventor, I'm always thinking ahead.
(PRWEB) September 20, 2012
In observance of National Preparedness Month, Re-StringIt.com is listing the top must-have domestic items to help people think about emergencies in advance. Designed to re-thread sweatpants and hoodies, Re-String It offers a time-saving solution to the annoying problem of losing a drawstring. In a similar way, the following items help families be prepared for when things begin to unravel:

Water & Water Filtration: one gallon of water per person per day for at least three days, for drinking and sanitation, is suggested by the Centers for Disease Control. Having a filter ready is also a good idea in case the boiling of water isn't an option.
Batteries: From AAA to D, these are essential to powering radios, which might be the best access to information when smartphones cannot be charged and the internet cannot be accessed. Likewise, invertors, solarchargers and generators might be a good back up plan.
Phone numbers: in a day when no one memorizes phone numbers any more, losing power puts people dangerously out of touch with one another. Keep a physical list of clearly written names and phone numbers in a location (or a few locations) that can be easily accessed during an emergency.
First Aid Kit: While many homes have these, they often don't get re-stocked with commonly used items like adhesive bandages, scissors and hydrogen peroxide, which can evaporate if not sealed properly.
Inventor of the Re-String It, Chad Archibeck, knows that being prepared is important. "Being a parent, I hope to never have to use any emergency plan, but as an inventor, I'm always thinking ahead. That's why being prepared is important to us at CWA Enterprises."
Re-String It recently took home the gold award at the Invention & New Product Exposition (INPEX) in Pittsburgh, PA. Re-String It uses a 4-millimeter tube with an 18 gauge wire and uses aluminum material, which means it won't rust and the adjustable tip saves users from having to tie the drawstring into a knot before Re-String It loops the cord back through the pants. While the product was designed with this function in mind, it's really a multi-functional tool that should be on every home's must-have list. Re-String It is now available at limited Play It Again Sports store locations or on Amazon. Facebook fans can access a limited time coupon currently running on http://www.facebook.com/restringit?ref=ts.
National Preparedness Month was instituted by the Federal Emergency Management Agency and the Department of Homeland Security a year after the devastating events of 9/ll.
About the Company:
Re-String It is a product of CWA Enterprises, which was created to bring the perfect must-have domestic tool to market. Re-String It is a heavy duty, versatile re-stringer that is easy to use and won't damage clothing. The rounded edge on the adjustable loop enables use on delicate materials. Visit http://www.re-stringit.com for more information.