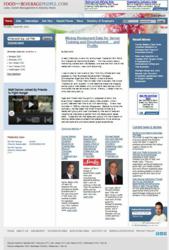 Princeton, N.J. (PRWEB) March 08, 2012
FoodAndBeveragePeople.com, a website dedicated to career minded food and beverage professionals, published over 7,000 restaurant industry jobs posted on the site today. The growing number of job postings are published on the site as a service to the hard working men and women across the United States who don't have the time to look at multiple sites to find viable jobs to earn a living or launch a career.
There are two things FoodAndBeveragePeople.com does differently than many sites. First, we only post jobs where the name of the company is specifically stated. There are too many scams and third party recruiters who waste the time of unknowing jobseekers. Finding a good match for your job skills is hard enough in the current economic environment without having to work with the scammers who may prey on the unemployed or job seeking public.
Our second point of differentiation is our story content. We publish unique stories such as this week's feature article on how restaurants are helping to train and develop their wait staff using the data available from sales receipts. The article "Mining Restaurant Data for Server Training and Development … and Profits" includes a conversation with Jim Hofer, Director of Training and Service Excellence of CRAVE, a Minnesota-based restaurant group and an Avero Single Server Mentoring client.
From quick service restaurants, to leading high end establishments, smart restaurateurs are analyzing the numbers behind their sales to ensure maximum profits. Server job satisfaction appears to be a happy consequence of the effort. Additionally, servers who understand and work towards helping their employer achieve company goals are far more likely to have a satisfying career.
Other story content also includes news about industry promotions, franchise opportunities, industry movement and career related news. In addition to the food services business, FoodAndBeveragePeople.com also covers food and beverage manufacturing, sales, distribution, agriculture and aquaculture portions of the industry.
About: Food And Beverage People Media Group, LLC and its premiere website FoodAndBeveragePeople.com ( food and beverage people dot com ) is for and about the people that drive the food and beverage industry in the United States. Industry professionals at every stage of their career will find the latest industry news, newsmakers, jobs and industry trends that will help inform their business and career decisions. To share content ideas related to the food and beverage industry, please visit the website. http://www.foodandbeveragepeople.com/cm/about_us