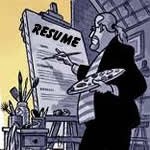 I applied 3 times this week and got 3 invitations for an interview.
Love my new resume!
Dallas, Texas (PRWEB) March 20, 2013
Every job seeker has the opportunity to watch the 3 videos that will show how to write the best looking and most effective resume with the New Google Resume Writing App. Take just 10 minutes and find out all the things that are right and all things that are wrong on a resume today. Tips and tricks from Career Coach and Recruiter Peggy McKee will give every job seeker the power to create a resume that stands out above all the others.
In today's job market, job seekers needs a powerful resume, one that lets the hiring managers know they can't let them walk out the door without a job offer. There are places to include your references and a way to list your accomplishments and work history and this New Google Resume Writing App from Peggy McKee will show any job seeker the secret to both.
When the resume isn't getting the interviews, something isn't right and Peggy McKee's New Google Resume Writing App will explain it step-by-step. It may be the format and structure are all wrong. Find out by downloading this app.
With this app, job seekers make sure hiring managers see and remember their resume. When a resume isn't structured right, it goes straight to the trash. The New Google Resume Writing App from Career Confidential has the do's and don'ts that keeps that from happening.
An App User, Jacklyn testified, "Thanks for the valuable information in the Resume Review Pro. My resume looks more clear and tells in powerful language exactly what the hiring manager needs to know. The proof is I applied 3 times this week and got 3 invitations for an interview. Love my new resume!" Many other testimonials similar to Jacklyn's are found with this app.
Who better than to teach the best resume writing style than a Career Coach and Recruiter like Peggy McKee? As Career Confidential's CEO, McKee has seen many bad resumes. Taking her experience and putting it all in this New Google Resume Writing App, she show's job seekers what to avoid and to make certain they do every time with every resume sent out. There is a strategy to good resumes and every job seeker can find out that strategy with this New Google Resume Writing App.
To view Career Confidential's other upcoming webinars, a schedule of upcoming events are found here: http://careerconfidential.com/training-webinars/
# # #
Career Confidential is committed to getting the unemployed back to work in 2013. After assisting over 10,000 people get a job, Career Confidential has set a goal to get 10,000 more people their dream jobs in 2013. Career Confidential exploded in 2012 with a 94% growth rate over 2011 in a down economy.
Based in Texas, Career Confidential specializes in the techniques and tools needed for a job search to be successful. This product is a customized and proven system that gives job seekers the power they need to nail the job they want.
With the guidance of CEO Peggy McKee and CTO Carl Chapman, two nationally recognized experts in the field of job search training, Career Confidential was founded in 2009 so that the original product, The 30/60/90 Day Business Plan, could be distributed more widely among job seekers across the world. From that one product, they now offer over 30 products that teach techniques and tricks to help every job seeker to land that perfect job.