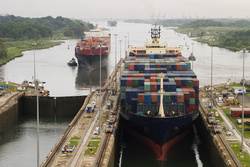 Tell me about a time when you switched from a domestic to an international supplier for a major raw material.
Waynesboro, VA (PRWEB) February 17, 2009
In a competitive economy, resume writing and interview preparation are critical to a successful job search for global sourcing professionals. Sourcing careers manage the identification of suppliers, the purchasing of materials and the logistics of purchased materials and components. In our modern global economy, sourcing provides the foundation of many companies. More than any other function, sourcing can quickly change the financial condition and competitiveness of a company. The importance of sourcing roles to organizations ensures that companies are rigorous in their hiring process.
To help prepare global sourcing professionals in a job search, Palladian offers a selection of the most important resume writing and interviewing tips tailored to the supply chain field.
When writing a resume, sourcing professionals need to go beyond recapping their past responsibilities. To be successful, a sourcing professional needs to demonstrate significant past achievement and potential. Palladian identified three key elements that can improve a sourcing professional's resume.
First, start the resume with an executive or professional summary, with two or three significant accomplishments. This is a good way to draw attention to past successes and demonstrate critical skills.
Second, include the challenges and activities that led to results. Many job seekers list the costs saved through their sourcing efforts, but fail to provide any details of how the savings were achieved. Showing the activities that led to the savings can help a candidate differentiate from their competition.
Third, include a range of skills and competencies, while highlighting a select few. Some job seekers omit some skills critical to their career because the activities that utilize these skills are routine. In global sourcing, managing transportation, customs, schedules and inventory levels are routine challenges, but still need to be addressed in the resume. They may pose a significant challenge to an employer. Failing to mention a key skill may lead the person screening the resume to assume the candidate does not possess the skill.
With an effective resume, a global sourcing professional in the job market will land interviews, but still have to compete against other sourcing professionals with a similar background. To be successful, the candidate needs to prepare for each interview thoroughly. The best interview answers will frame the situation, detail the actions taken and give the results of those actions. Many candidates answer in generalities. This is a big mistake. A focused example, with clear results, will make the best impact.
Behavioral interviews focus on assessing the past performance of a job candidate. The questions explore specific situations and activities the job seeker is likely to have experienced. This makes behavioral interviewing a good tool in selecting sourcing professionals. Some behavioral questions that a global sourcing professional may encounter include:

"Tell me about the greatest sourcing challenge you have faced in your career."
"Tell me about the most difficult vendor relationship you have managed."
"Tell me about a time when a cultural issue between you and a vendor or potential vendor led to conflict."
"Tell me about a time when you conducted an audit of a potential vendor overseas."
"Tell me about a time when you switched from a domestic to an international supplier for a major raw material."
Technical expertise is critical to landing a global sourcing position. The challenges in sourcing roles require skill and experience to be successful. These challenges constantly change with new economic and international opportunities and pitfalls. This makes a balance of technical expertise and soft skills critical.
Soft skills form the foundation of a person's career, driving the ability to apply technical expertise. The most critical soft skills include Communications Skills, Interpersonal Skills, Teamwork, Work Ethic, Attitude, Organization Skills, Flexibility, and Problem Solving Skills.
All of these skills play a significant role in every career. In global sourcing, soft skills are critically important. Demonstrating exceptional technical skill with excellent soft skills can help a job candidate separate themselves from their competition.
About Palladian International, LLC:
Palladian International specializes in helping job seekers stand out from their competition. We offer a comprehensive selection of resume writing services and interview preparation coaching. Separate from our coaching services, Palladian provides executive search services to a select client base in the manufacturing, distribution and defense industries. Visit Palladian at http://www.palladiancr.com or read our blog at http://blog.palladiancr.com.
Contact:
Gary W. Capone
Vice President
Palladian International, LLC
866-766-8447
gcapone (at) palladianinternational.com
###