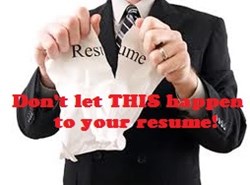 Dallas, TX (PRWEB) (PRWEB) March 10, 2013
Too many job seekers aren't getting called from the resumes they are sending out and have no idea why. Career Confidential CEO Peggy McKee is a Career Coach and Recruiter with over 15 years experience and she is going to reveal the biggest mistakes that are on resumes during a complimentary live webinar on March 12, 2013. Job seekers that register for this complimentary live webinar will have the opportunity to submit their resume for a live evaluation by Peggy McKee.
When a job seeker is sending out resume after resume and not hearing back from the prospective employers, it is most likely something is wrong with the resume. A good resume has to do more than just recite the job seeker's education and work history. A good resume is a job seeker's calling card. It is the business proposal to the prospective employer that sells them on requesting that first interview.
A good resume should be strong with selling points about the candidate and this complimentary live webinar hosted by Career Confidential on March 12, 2013 will share those selling points and much more, complimentary to all those that register. There is nobody better than Career Coach Peggy McKee to tell every job seeker what is wrong with their resume and how to fix it.
It's common knowledge that a resume can't have simple mistakes like grammar or spelling errors. It's common knowledge of the basic information that should be included on a resume. However, there are key parts that most job seekers are missing on their resume and Peggy McKee will explain what those key parts are and how to fix them during a live webinar on March 12, 2013. What job seekers don't realize are the many mistakes that can land a resume in the trash. Career Coach, Peggy McKee will shed light on those mistakes and how to avoid them during this complimentary live webinar.
Using resumes that have been submitted ahead of time, Peggy McKee will use them to point out the mistakes and show how to correct those mistakes. This complimentary live webinar on March 12, 2013 can be the most informative information a job seeker will ever receive that will land that job interview quick.
Any job seeker that attends this complimentary webinar will feel like a professional at the end. The process that Peggy McKee will show is so simple, that any job seeker can benefit from this webinar regardless the type of position they seek or what their experience level is for the position.
###
Career Confidential is committed to getting the unemployed back to work in 2013. After assisting over 10,000 people get a job, Career Confidential has set a goal to get 10,000 more people their dream jobs in 2013. Career Confidential exploded in 2012 with a 94% growth rate over 2011 in a down economy.
Based in Texas, Career Confidential specializes in the techniques and tools needed for a job search to be successful. This product is a customized and proven system that gives job seekers the power they need to nail the job they want.
With the guidance of CEO Peggy McKee and CTO Carl Chapman, two nationally recognized experts in the field of job search training, Career Confidential was founded in 2009 so that the original product, The 30/60/90 Day Business Plan, could be distributed more widely among job seekers across the world. From that one product, they now offer over 30 products that teach techniques and tricks to help every job seeker to land that perfect job.
Peggy McKee is available for interviews or for answers to any questions about this topic overall, give Zanetta Siciliano a call at 1-800-691-2562.