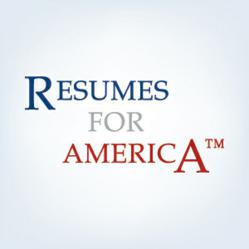 Having worked with hundreds of students on resumes previously, I believe it will help them out a ton
North Bethesda, MD (PRWEB) November 13, 2012
Resumes For America, sponsored by Resume Companion, announced today that it has reached a milestone and has partnered with over 35 institutions since their launch less than five months ago at the National Association of Colleges and Employers' (NACE) conference in Las Vegas. The online resume builder software allows all partnered colleges and universities the opportunity to provide additional resume assistance to all their student and alumni at zero cost. Of the 35-partnered institutions, over 2,300 resumes have been created and thousands more are expected to be created as second semester approaches.
"We are thrilled to see how many resumes have already been created by students as we were expecting to see these numbers closer to the end of the year when students are looking for summer jobs, internships or graduating," said Doris Lee, Director of University Outreach at Resumes For America. "This just says to us that an online resume builder is something many students are finding useful and necessary as many have never written a resume before."
Beyond students, career counselors and faculty are also praising the non-profit for providing a user-friendly tool that allows them more quality time to work closely with raising the bar of student resumes rather than creating one from scratch. "Having worked with hundreds of students on resumes previously, I believe it will help them out a ton…the bullet point feature for professional experience is great. Students really struggle to come up with solid statements to describe their work history," said Jeremy Raisor, Career Services Advisor at Northland Pioneer College.
The bullet point feature is one of many additional resources offered to students; others include over 1,500 resume samples and resume templates broken down by industry with more being added daily. Staff and administrators attribute the high number of students using the builder to its user-friendliness. "It is very easy to navigate the system…the formatting properties it handles are remarkable. It allows students to simply enter information without worrying about getting it in the correct positioning or styling formats," said Jarrod Williams, Career Services staff at Indiana Tech.
Doris Lee believes the high numbers can be attributed to career services staff and their efforts in promoting this free service. "I've been told that career service counselors have been heading into classrooms and showing students the product as well as starting a resume review course. These are all individual initiatives by the institution that, when partnered with our free software, can only help students." Currently, there are almost 20 states represented with states such as California, Pennsylvania, New York, Ohio, and Virginia all having multiple institutions as partners. As more institutions partner up, it is the joint efforts of both Resumes For America and career services that will fulfill the non-profits mission statement of measuring success by the number of students finding gainful employment, one resume at a time.
Resumes For America, powered by Resume Companion, is an online resume builder designed to enable anyone to create a professional resume in minutes with no prior writing experience. The staff consists of Certified Resume Writers, university administrators and programmers working together to develop a user-friendly resume builder that is simple in design, but effective in delivery.
Resumes For America Contact:
Doris Lee
Director of University Outreach
(P) 866-936-5977
doris (at) resumecompanion (dot) com
Resumes For America