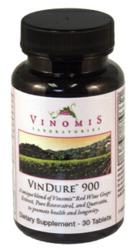 The resveratrol benefits from 100 bottles of wine without the alcohol or calories, and at NO COST!
Sewickley, PA (PRWEB) November 21, 2012
Vinomis® Laboratories is proud to announce its participation in American Express Small Business Saturday which takes place on November 24, 2012 by offering customers a free bottle of its flagship product Vindure® 900. Vindure 900 contains a proprietary blend of Resveratrol, Quercetin, and red wine polyphenols which has been clinically proven to boost memory, energy, and mental sharpness in the short term, and provides long-term cardiovascular and longevity benefits.
In order to receive the free bottle of Vindure, customers must do the following:

Enroll their American Express card at the Small Business Saturday Website
Purchase a bottle of Vindure 900 at the special "Small Business Saturday" price of $25 (plus S&H and sales tax, if applicable, limit one per customer) at http://www.vinomis.com/amex on or before 11:59pm MST on Saturday 11/24/2012. (Orders placed before 11/24 will be automatically processed on 11/24). Purchases must be made on the enrolled American Express Card.
American Express will issue a $25 statement credit (one per customer) for any single purchase of $25 or more made at any qualifying small business, including Vinomis. Full terms and conditions are listed on the American Express Small Business Saturday website.
Resveratrol became known as the "Red Wine Miracle" and the answer to the "French Paradox" as a result of groundbreaking research at The Harvard Medical School several years ago. Laboratory animals supplemented with Resveratrol became resistant to many of the ill effects of obesity, and did not develop the various diseases associated with aging to the extent of the non-supplemented animals.
Many of these amazing results have now been confirmed in human clinical trials, with many more trials currently in progress. "We now have customers who have been taking Vindure 900 for over 3 years," according to Barry Yarkoni, Vinomis CEO. "Customers report more energy, improved mental sharpness and memory, and an overall feeling of vitality. They call us up in a panic if they are close to running out! We are grateful to American Express for sponsoring Small Business Saturday," he says, "it's a perfect way for customers to try out and experience the benefits of Vindure at no cost."