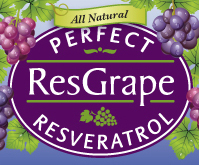 Most resveratrol products on the market today contain low purity trans-resveratrol from Japanese knotweed and those products usually contain high amounts of emodin, but not Perfect ResGrape.
New York, NY (PRWEB) November 17, 2009
The resveratrol supplement named Perfect ResGrape, which is available on http://healthfoodpost.com/resveratrol/, is a premium resveratrol product and has been a top seller since its introduction in 2009. Perfect ResGrape contains two ingredients and nothing else. The ingredients are 99% purity trans-resveratrol and freeze-dried whole food Muscadine grapes. Muscadine grapes are one of the best sources of antioxidants and resveratrol in the grape family. But, unlike Perfect ResGrape, most resveratrol products do not contain muscadine grape and many offer lower purity trans-resveratrol which can cause problems.
Premium resveratrol products such as Perfect Resgrape resveratrol are hard to find since they contain high quality ingredients which are more costly at the wholesale level, which results in lower profit margins for the producer and retailer. But the folks at HealthFoodPost.com seeks out products with the highest quality ingredients because this is the most important criteria to consider when trying to determine which are the best resveratrol supplements. The best ingredients should yield the best products and, hopefully, the best benefits. Still, the retail price of Perfect ResGrape is very competitive among the higher-end products.
According to Chaz Sanderson, the public relations manager for the website, "Most resveratrol products on the market today contain low purity trans-resveratrol from Japanese knotweed and those products usually contain high amounts of emodin, but not Perfect ResGrape." The problem with emodin is that this substance has a laxative effect with many people and can cause stomach problems such as diarrhea or stomach cramps. Unfortunately, many companies use the lower purity substance in their products because it is a less expensive ingredient, enabling those companies to promote lowers prices. Sanderson adds that "resveratrol advertisements showing price comparisons are often misleading because these advertisements frequently compare a low quality product to a high quality product, which is a meaningless price comparison."
A bottle of Perfect ResGrape contains 60 capsules and each capsule contains 100 mg of 99% pure trans-resveratrol plus 500 mg of whole food muscadine grape Perfect ResGrape uses only 99% pure, natural trans-resveratrol. Muscadine grapes are among the most nutritionally potent grapes. So, Perfect ResGrape supplements provide the benefits associated with whole Muscadine grapes, in addition to containing the compound trans-resveratrol making it a unique product. Additionally, Perfect ResGrape includes 100% natural ingredients, which are ethically and sustainably harvested, and grown without toxic pesticides. There are no additives, fillers, or flow-agents in this product. Perfect ResGrape is available for purchase on the HealthFoodPost.com website.
The company that makes Perfect ResGrape also makes one of the premier authentic acai berry products called Perfect Acai which is offered on the website. HealthFoodPost.com is also a popular leading destination for general news about healthy living, including information about the latest new products for healthy living. Most of the products offered are organic and fairly traded. Chaz Sanderson says "our website visitors won't see any flashy celebrity advertisements, outrageous health claims or phony free offers, just the highest quality ethical products available."
Sanderson also says Perfect Acai is unique among acai berries products in a number of ways including quality, price and consumer-friendly marketing. Like resveratrol, the acai berry fruit has been the beneficiary of enormous publicity. And with that publicity has come a flood of mediocre products and misleading free offer schemes. Many of the most widely promoted products often are of the most questionable quality. And while the old saying 'you get what you pay for' is often true, sometimes the products sent from free offer promotions are even more expensive than truly high-quality products. So Sanderson strongly urges consumers to avoid free offers and read the product ingredients labels so folks can see exactly what they are buying.
Many companies offering resveratrol or acai berry, especially the products that are part of the free offers tend to not fully disclose the ingredients in their products. Some indicate the ingredients are a proprietary blend. Some ingredients labels indicate products that contain many other ingredients, often including large amounts of caffeine or other substances. Many acai products often list acai 'extract' an ingredient which means that that product does not contain the entire acai fruit from the pulp and skin of the berry. Many acai juices list 'acai juice' as an ingredient, which hard to understand how a juice can be an ingredient in another juice. The question then becomes, what is in the juice that's in the juice. It is frequently very confusing and probably intended to be that way.
Simply put, consumer can find quality products but they must read behind the headlines and seek out additional information. And when websites don't provide adequate information including ingredient labels, they should seek out products that do to insure they buy only the best quality products.
This press release may only be republished provided that it is published unaltered and in full including live links. Republishing without live links or in any altered fashion is an infringement of the copyright.
Media Contact: Chaz Sanderson 732-249-9008