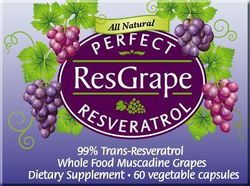 Picking a top Resveratrol product for 2009 was not an easy task. So many new resveratrol supplements have flooded the market and it can be difficult to cut through all the hype
New York, NY (Vocus) December 31, 2009
Consumers looking for the highest quality pure Resveratrol and Muscadine Grape are encouraged to try the Perfect ResGrape Resveratrol brand according to a year end report by PowerSupplements.Com . While there was great confusion in 2009 over the right resveratrol dosage, resveratrol side effects and the difference between Trans-Resveratrol and Cis-Resveratrol – one thing was clear – Perfect ResGrape Resveratrol was a standout for both quality and effectiveness.
Resveratrol (or Trans-Resveratrol) is a polyphenol that is found in red grapes and other foods. Resveratrol has become the subject of great interest because of its ability to mimic calorie restriction and trigger the release of Sirtuin 1 (SIRT1). The reason this is so significant is that it is believed that SIRT1 is responsible for slowing the process of aging and disease. Resveratrol has been featured on CBS News 60 Minutes, the New York Times, Oprah and countless other media organizations.
"Picking a top Resveratrol product for 2009 was not an easy task. So many new resveratrol supplements have flooded the market and it can be difficult to cut through all the hype" states Bob Peters, Director of Communications for PowerSupplements.Com . "The reason we selected the Perfect ResGrape Resveratrol is because it is made with 2 incredibly powerful and effects ingredients – 99% Pure Trans-resveratrol and [100% Muscadine Grape seed, skin and pulp]. That is it - no fillers or flowing agents."
Muscadine grapes grow throughout the SouthEastern United States. Muscadine grapes (Vitis rotundifolia), also called Scuppernong, and are bronze or a purple/black color. Muscadines are larger, stronger and have thicker skins than traditional grapes.
The climate and weather conditions in the Southeastern United States can be harsh and unpredictable. It is this very difficult climate that helped the Muscadine Grape evolve into a grape like no other.
Normal grapes have 19 pairs of chromosomes, Muscadines actually have an extra pair of chromosomes - they have 20 pairs! It is believed that this genetic difference is the reason that Muscadines have 6 times the Resveratrol of red grapes, 40 times the antioxidants and are the only grapes to contain ellagic acid.
The Top Reasons Perfect ResGrape Resveratrol was named the top Resveratrol Supplement of 2009 by PowerSupplements.Com –

Each Serving has 200mg of 99% Pure Trans-Resveratrol
Each Serving has 1,000mg of Whole Food Muscadine Grapes (skin, pulp and seed)
An Incredible ORAC score of over 7,200 per serving
All Natural
Contains Ellagic Acid - powerful antioxidant that is not found in pure Resveratrol supplements
Vegetable Capsules - no gelatin - great for vegetarians.
100% Money Back Guarantee - return an empty bottle and receive a full refund
The Only Resveratrol Supplement Backed by a Consumer Bill of Rights
Absolutely No Pesticides Used
Absolutely No Emodin (a laxative found in many other Resveratrol supplements)
Absolutely No fillers, flow agents, sugar, animal products, yeast, wheat, gluten, artificial coloring or artificial flavoring
Absolutely No maltodextrin
Absolutely No auto-billing or memberships to cancel
No Proprietary Ingredients
No Other Ingredients - Contains Only Muscadine Grapes and Resveratrol
About Power Supplements, LLC:
Power Supplements, LLC does research regarding food, health, supplements and diet. PowerSupplements reviews clinical studies and research to locate supplements and foods that are proven to be effective with real science.
Contact:
Bob Peters, Director of Communications
PowerSupplements, LLC
646-827-9222
###