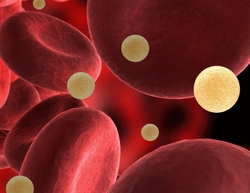 RevGenetics simply offers the best product -- at the best price -- for your daily needs
Miami (PRWEB) August 18, 2008
RevGenetics, a supplement company and distributor of the herbal supplement Resveratrol, recently announced the launch of a new product: Micronized Trans-Resveratrol. Micronized Resveratrol is small enough to pass through the body's tiny mucous membranes, and contains properties not found in normal Resveratrol.
A particle size between one to four microns is smaller than what most water filters can stop, and one micron is 100 times smaller than the width of a human hair -- and easily absorbed by the body. According to RevGenetics, no other supplement maker is offering independently verified Micronized Resveratrol powder at this time.
"RevGenetics simply offers the best product -- at the best price -- for your daily needs," said Anthony Loera, founder of RevGenetics. "We believe that Resveratrol needs to be taken in effective dosages. It is because of this that Micronized Resveratrol was created."
The herbal supplement is cost-effective as well, Loera said.
"We supply a small scoop with your order. If you take one small scoop a day (about 300mg) in your liquid tonic or shake, this powder will last you about 11 months," Loera said. "That comes out to $0.66 a day."
To compliment the launch of the new product, customers who order any product at the RevGenetics Web site (http://www.RevGenetics.com) between Aug. 16 and Aug. 30 will be entitled to a 20 percent discount on Micronized Resveratrol powder, as well as discounts on other products.
According to RevGenetics, the benefits of the Micronized Resveratrol Powder include:

98 percent Purity Powder (500mg powder = 490mg Micronized Trans-Resveratrol)
The only Micronized Resveratrol between one to four microns available for bulk purchase
Estimated up to 220 percent more effective over regular Resveratrol supplements
Estimated to be up to 300 percent -- or more -- effective when mixed into a liquid, tonic or emulsifier
All-natural herbal extract from plant root
Herbal powder is independently tested in a United States laboratory for safety and purity
Herbal powder has been independently verified to activate the SIRT1 Gene as good as -- or better -- than research-grade Resveratrol
Provided for manufacturers and the public
According to studies on non-human mammals cited by RevGenetics, Resveratrol has been shown to have multiple benefits; it is believed that resveratrol may be crucial in preventing certain kinds of cancer, especially breast cancer, and at reducing the risk of cancers spreading to the inside of the bones. Resveratrol has also been studied regarding its strong anti-viral, anti-fungal properties. *RevGenetics also cites studies that have shown neuro-protective, anti-aging, anti-inflammatory and life-prolonging effects of Resveratrol on subjects, as well as beneficial in protecting the central nervous system and in hormone regulation.
There are such a wide variety of benefits to this micronized resveratrol that, adding it to any health drink, protein shake, or other super cocktail will allow anyone to increase and even multiply its benefits, without the high price of specialized tonics or pills.
Regarding the latest product, Loera wished to acknowledge the Florida Center for Analytical Electron Microscopy, a center supporting education and research. The Florida International University FCAEM center made it possible for RevGenetics to introduce Micronized Resveratrol Powder to the marketplace.
*As a natural herbal supplement, these statements have not been evaluated by the Food and Drug Administration. This product is not intended to diagnose, treat, cure or prevent any disease. Please refer to the scientific studies for detailed information of the possible benefits of RevGenetics Resveratrol.
About RevGenetics
RevGenetics, is an herbal supplement company focused on providing and developing small molecule herbal supplements for overall health based on the resveratrol red wine molecule. RevGenetics prides itself in providing independently tested herbal products, as well as marketing and distributing unique health and nutritional supplements. RevGenetics currently provides the only 1000mg herbal resveratrol capsule available and is also the only provider of bulk micronized resveratrol powder on the market.
For more information, please visit http://www.RevGenetics.com.
###