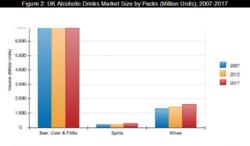 Dallas, TX (PRWEB) May 09, 2013
Packaging companies require a detailed understanding of packaging consumption by individual product categories in order to align their sales and marketing efforts with the latest trends in the market. This report clarifies in detail, by product category, where the growth opportunities are in packaging materials and types to enable effective market planning.
These are the brand new data-only reports from packaging experts, providing extensive and highly detailed time series consumption data on primary and outer packaging in the market.
These reports provide in-depth quantitative data on retail (i.e. off-trade) alcoholic drinks packaging in the United States, United Kingdom & China covering key segmentation such as pack material and type, closure material and type, outer and multi-pack information, for the latest financial year, and the extreme ends of the historical (2007-2012) and forecast (2013-2017) periods.
Get a copy of UK Retail Alcoholic Drinks Market @ http://www.rnrmarketresearch.com/the-packaging-of-retail-alcoholic-drinks-in-uk-2007-to-2017-market-report.html
The market value of the beer and cider packaging sector declined during the review period (2007-12), as did that of spirits; however, both are predicted to reverse this downward trend across the five-year forecast period (2013-2017), registering anticipated CAGR growth of 0.11% and 1.72% respectively. Contrastingly the wine packaging sector in the United States grew at a CAGR of 2.1% during the review period, and this research predicts that it will continue to do so, at 2.82%, over the forecast.
According to this research, the alcoholic drinks packaging sectors increased massively in market value over the review period (2007-12), particularly that of the Spirits packaging sector which gained value at an annualized CAGR rate of 16.47%. However, as the Chinese economy stabilizes, all three sectors – beer and cider, spirits, wine – are expected to continue growing but at much steadier CAGRs of 3.81%, 14.33% and 5.97% respectively.
Reasons to buy
Gain access to consumption data based upon a unique combination of industry research, fieldwork, market sizing work and our in-house expertise.
Use comprehensive and granular data to confidently update your strategic and tactical plans.
Promote growth in your business with extensive quantitative data on the trends and dynamics affecting the packaging of Alcoholic Drinks products in the United States, United Kingdom & China.
Understand own and competitors' position in the American, British & Chinese alcohol packaging market in order to accurately identify where to compete in the future.
Purchase a copy of UK Retail Alcoholic Drinks Market @ http://www.rnrmarketresearch.com/contacts/purchase?rname=93788
Browse more reports on Beverage Packaging Market @ http://www.rnrmarketresearch.com/reports/food-beverage/beverages/beverage-packaging
About Us:
RnRMarketResearch.com (http://www.rnrmarketresearch.com/) is an online database of market research reports offers in-depth analysis of over 5000 market segments. The library has syndicated reports by leading market research publishers across the globe and also offer customized market research reports for multiple industries.