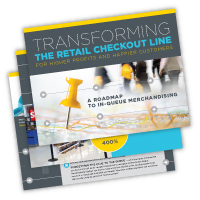 Often relegated to non-revenue generating floor space, the checkout line presents a powerful area of opportunity for retailers
Valencia, CA (PRWEB) November 07, 2012
To help retailers capture a higher percentage of expected holiday sales, Lavi Industries has released a free guide to in-queue merchandising. The 9-page guide features rich content describing how retailers can transform their checkout lines for higher profits and greater customer satisfaction.
"Often relegated to non-revenue generating floor space, the checkout line presents a powerful area of opportunity for retailers," explains Perry Kuklin, Director of Marketing and Business Development for Lavi Industries. "In-line merchandising turns the checkout area into a virtual store by combining traditional belted stanchion queuing systems with merchandising components, such as display panels, signage, hooks, baskets, and trays, in-line tables, and more."
As the National Retail Federation recently released its most optimistic holiday sales forecast since the recession, retailers will compete for their share of the expected 4.1 percent increase in 2012. "We hope this guide will inspire retailers to use the checkout queue as leverage to capture a greater percentage of these sales," says Mr. Kuklin.
The visually-engaging presentation highlights the key benefits of merchandising in the queue; key considerations for planning an in-queue merchandising approach; pitfalls to avoid when merchandising in the queue; ideas for increasing in-line sales; and a checklist for getting started. It also features an idea retailers can use to boost in-queue impulse sales by as much as 400%.
To view and download the guide, Transforming the Retail Checkout Line: A Roadmap to In-Queue Merchandising, visit http://lp.lavi.com/queue-merchandising-guide.
About Lavi Industries
Based in Valencia, California, Lavi Industries is the premier provider of public guidance and crowd control solutions in North America. Leveraging its portfolio of world-class brands – Beltrac® stanchions, Directrac® signage systems, Qtrac® electronic queuing systems, and NeXtrac® in-line merchandising systems – Lavi has helped the world's leading companies effectively guide people in, through, and out of their facilities. More information is available at http://www.lavi.com/.