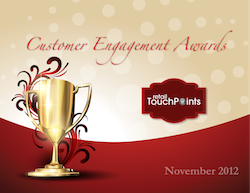 Leading Swedish retailer of industrial work safety supplies and winner of Retail TouchPoints 2012 Customer Engagement Award in the Supply Chain category Procurator announced their intention to participate in NRF 'Retail's Big Show.'
Atlanta, Georgia (PRWEB) January 09, 2013
Leading Swedish retailer of industrial work safety supplies and winner of Retail TouchPoints 2012 Customer Engagement Award in the Supply Chain category Procurator announced their intention to participate in NRF 'Retail's Big Show.' Anders Armandt, Purchasing Director at Procurator and leader behind many of the accomplishments that led to the award, will attend the convention to network and share supply chain insights with fellow retail professionals.
Anders will join over 25,000 retail professionals in New York City at the Javit's Convention Center January 13 to 15. The Procurator Purchasing Director will be on site to receive Procurator's latest award, Retail TouchPoint's 2012 Customer Engagement Award. As one of only 11 leading, global retailers to receive the award, Procurator earned the prominent distinction for leveraging demand-driven supply chain initiatives to improve product availability and customer loyalty.
In addition to receiving the award on behalf of Procurator, Armandt will be present at the convention to meet, network and share supply chain stories with fellow retail colleagues. As demand-driven forecasting, planning, replenishment and analytics solutions continue to increase the effectiveness of supply chain planning, Anders hopes to share his methods for success as well as find out how other retailers are using supply chain innovation to better their customer engagement.
Anders will be available for discussions on Level 1 at booth C226 with supply chain planning and execution partners Blue Ridge and LogFire on Monday January 14th at 11AM, 2PM and 4PM, and Tuesday January 15th at 10AM. To schedule a one-on-one appointment please contact Blue Ridge. For a free expo pass to the convention click here.