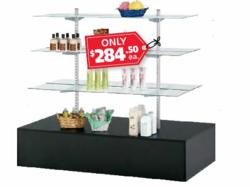 Effective and efficient spring displays can help retailers maximize profits by making the best use of floor space for new and overflow of inventory.
St. Louis, MO (PRWEB) March 23, 2012
As spring nears, retailers are busy making sure that they are prepared for the arrival of new spring merchandise. Store owners can take advantage of new merchandise displays to effectively display their new inventory, take advantage of floor space, and maximize profits. To help stores prepare for the spring busy season, Store Supply Warehouse provides essential spring display items, including clothing racks, display fixtures, and accessories.
"Retailers need more than just a clothing rack to create an effective merchandise display," said Matt Wohlstadter, President of Store Supply Warehouse. "We offer a large selection of clothing racks, store fixtures, mannequins and hangers to provide store owner with everything they need to effectively showcase spring merchandise in order to turn a profit."
At Store Supply Warehouse, retailers can find a variety of clothing racks to set the foundation for their spring merchandise displays. Rolling racks and round clothing racks are among the most popular fixtures for retail displays during spring. Rolling racks can be brought out on sidewalks during nice spring weather, whereas round racks can help to showcase merchandise while not taking up much space. Simply by placing a glass topper on the round rack, retailers can add dressed mannequins to feature the clothing hung on the rack below.
Additionally, retailers can make use of Store Supply Warehouse's free standing display racks, slat wall and hardware. Outrigger displays, slat wall or grid wall with wall hooks or face outs are an economical solution for displaying merchandise when budget and floor space are an issue. Store owners can hang new inventory and install shelving to create displays that effectively showcase their new spring merchandise.
"Effective and efficient spring displays can help retailers maximize profits by making the best use of floor space for new and overflow of inventory. It allows retailers to quickly restock merchandise and change out mannequins so as to minimize opportunity cost while complementing the ambiance within the store," added Wohlstadter.
Store Supply Warehouse also features a wide selection of hangers, signage, mannequins, merchandisers, clothing racks, and display fixtures to satisfy any retailer's budget. Store Supply Warehouse also prides itself on serving 87 percent of the continental United States within one day on all orders placed before 3 p.m.
For more information about display fixtures from Store Supply Warehouse, visit the website: http://www.storesupply.com/
About Store Supply Warehouse
Store Supply Warehouse was founded in 1994 in St. Louis, and has since seen immense growth, selling retail fixtures and retail store supplies, including display cases, racks and shelving, shopping bags, hangers, pricing and tagging guns and mannequins. The distribution chain takes pride in its quick transaction process, efficient delivery, and quality customer service. Products are available for purchase through Store Supply's catalog, which is updated and distributed four times a year, or online at http://www.storesupply.com. Same-day shipping is guaranteed on all orders placed before 3 p.m. The company's main office is located at 9801 Page Avenue, St. Louis, Missouri, 63132. Contact Store Supply directly at 800-823-8887 or by email at contactus(at)StoreSupply(dot)com.