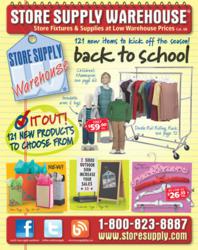 St. Louis, Missouri (PRWEB) July 27, 2011
Store Supply Warehouse LLC, a St. Louis based retail supply company, has released its Fall 2011 catalog this week. In this season's catalog, Store Supply Warehouse adds 121 new products to its selection of over 2,200 retail fixtures. Among the new products, retail store owners will find paper gift bags with new designs, a brand new boutique line, jewelry display sets, and a wire gridwall product line available in raw steel finish – perfect for the Halloween season.
"Quality retail supplies are important to small businesses and specialty retailers," said Matt Wohlstadter, President of Store Supply Warehouse, "which is why our 100+ page catalog offers a large selection of products that retailers need and use every day. We understand how valuable time is to business operations. We offer guaranteed same-day shipping on all orders placed before 3 p.m." And with the opening of its Louisiana location, also featured in the catalog, Store Supply Warehouse is able to reach 87 percent of the U.S. population the next business day with standard ground shipping.
Store Supply Warehouse has five locations spread throughout the country, including the new Louisiana facility. With a guarantee that every item is in stock at every warehouse, Store Supply Warehouse ensures fast, efficient delivery. In addition, every call made to Store Supply Warehouse is answered by an actual customer service representative—no calls are forwarded off-site and there are no machines to answer phones.
To order retail fixtures and store supplies from Store Supply Warehouse, or to request their catalog, visit the company's website at http://www.storesupply.com.
About Store Supply Warehouse
Store Supply Warehouse was founded in 1994 in St. Louis, and has since seen immense growth, selling retail fixtures and retail store supplies, including display cases, racks and shelving, shopping bags, hangers, pricing and tagging guns and mannequins. The distribution chain takes pride in its quick transaction process, efficient delivery, and quality customer service. Products are available for purchase through Store Supply's catalog, which is updated and distributed four times a year, or online at http://www.storesupply.com. Same-day shipping is guaranteed on all orders placed before 3 p.m. The company's main office is located at 9801 Page Avenue, St. Louis, Missouri, 63132. Contact Store Supply directly at 800-823-8887 or by email at contactus(at)StoreSupply(dot)com.
###