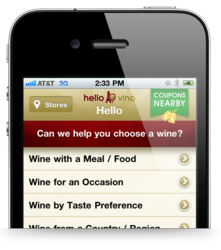 At Raley's, we're always looking for innovative ways to provide our customers with an easier and better shopping
experience in our stores
West Sacramento, CA (PRWEB) November 17, 2011
Hello Vino, Inc. today announced a partnership with Raley's Family of Fine Stores to provide a free mobile app to assist shoppers with selecting the perfect wine for their needs amongst the hundreds of bottles available at retail.
Hello Vino, a free mobile app available for both iPhone and Android devices, recommends the perfect type of wine for a meal, specific occasion, or by personal taste preference. The app features will be customized to Raley's 124 retail locations throughout northern California and Nevada, which also include Bel Air and Nob Hill Foods stores.
Wine brand recommendations provided by the app will be customized to reflect each individual store's inventory, utilizing the mobile device's location-based services. Additional app features allow shoppers to save and rate wines for future reference and return shopping trips.
Raley's is the first retailer to offer digital coupons through the Hello Vino app, delivering offers to shoppers' mobile devices for easy redemption at checkout. In addition, image recognition technology in the iPhone app will allow shoppers to snap a picture of a wine label to instantly receive tasting notes, food pairings, and ratings from both professional critics and consumers.
"We are very excited to be working with Raley's as the first retail chain to launch this ground-breaking mobile app program for their wine shoppers," remarks Jim McNamee, Co-Founder of Hello Vino. "A feature-rich smartphone app is the perfect vehicle to deliver a personal and well-informed wine shopping experience."
Raley's partnership with the wine industry's leading mobile app provides their shoppers with an educational resource on their smartphones, delivers coupons for redemption in nearby stores, and leverages benefits like helpful message reminders within the app.
"At Raley's, we're always looking for innovative ways to provide our customers with an easier and better shopping experience in our stores," said Joe Lima, Raley's Senior Business Manager for Wine, Beer and Spirits. "The Hello Vino app will be an incredibly useful resource for our customers to easily find the right wine based on their particular varietal preferences, price points and food pairings, while also offering instant savings in our stores."
About Raley's
Raley's is a privately owned supermarket chain with headquarters in West Sacramento, CA. The company is comprised of four chains - Raley's, Bel Air Markets, Nob Hill Foods and Food Source - located in Northern California and Nevada. For media requests, please call (916) 373-6043 or (916) 600-1081.
About Hello Vino, Inc.
Hello Vino delivers wine recommendations to mobile phones, assisting consumers with the perfect bottle of wine for a meal, occasion, or according to taste preferences. The service is available on any smartphone through free iPhone and Android apps, as well as mobile web sites for BlackBerry and Windows Phones. More information, including video demonstrations and features, are available at HelloVino.com
###