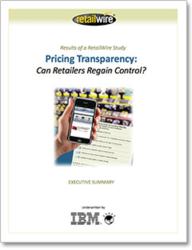 Almost half of respondents say it's OK to sometimes price like-items differently online vs. in-store, while nearly an equal number disagree.
Upper Montclair, NJ (PRWEB) October 05, 2012
In the last year, "showrooming" has made significant inroads into retail industry lexicon while simultaneously being dismissed as overblown. While the results of a recent RetailWire study, underwritten by IBM, indicate that consumer use of mobile apps for competitive price searches in-store may not be a major problem, it is certainly symptomatic of broader issues stemming from greater pricing transparency and extreme price sensitivity on the part of consumers.
In the study, "Pricing Transparency: Can retailers regain control?," retailers, brands and other industry practitioners considered how pricing transparency influences their competitive positions. The results provide a clearer picture of how pricing transparency is affecting decision making; which aspects are of most concern; and what role participants see pricing strategies, assortment and marketing playing in remedying ill effects radiating from the trend.
Many study findings simply support best practices already in place, but some contradict commonly held assumptions about how retailers and manufacturers are reacting to increasing pricing transparency. For example, among pricing-related issues, "showrooming" is ranked as the biggest concern by about one in five respondents, second to "price sensitivity on the part of consumers" ranked highest by about one-third.
Dick Seesel, principal, Retailing In Focus, commenting on the study results during a recent RetailWire webcast, said he sees showrooming as not a current but "potentially big problem."
"I think it's really at the start of a potentially mushrooming growth curve," he said, "and when you think about other smartphone trends — everything from mobile ecommerce to review sites to e-couponing to GPS-based marketing — we've seen all of these things escalate so rapidly it really pays for retailers to get in front of them as quickly as possible with a strategy instead of being reactive to them."
"There are some other elements that come into a shopper's equation when they're making a purchase decision," added Wes Woolbright, national pricing director, Safeway. "Another dynamic that plays into both the mobile and online space is trust. A brick and mortar environment presents a greater opportunity to get some certainty about the purchase that's being made. Another dynamic is the 'element of now.' If I'm in a store I can pick up the item immediately and get instant gratification."
Some other notable observations from the study:

Best Buy is the poster child for showrooming. Survey respondents largely believe that showrooming is having the biggest impact on consumer electronics retailers, as well as other hardlines such as pet and office supplies. Grocery is not seen as being greatly affected; only 15 percent of respondents appear terribly concerned about grocery in this regard.
It's not pricing inconsistency, it's strategy. Almost half of respondents say it's OK to sometimes price like-items differently online vs. in-store, while nearly an equal number disagree, saying retailers should always present the same prices, regardless of the selling environment.
Trade partners not seeing eye-to-eye on pricing practices. To combat the ill effects of pricing transparency, brands say retailers should use price matching on select SKUs while retailers lean more toward personalized pricing (perhaps based on relevancy.)
"Special versions" are a popular weapon; store brands, not so much. In ranking the effectiveness of assortment practices in combating transparency ills, by far the greatest number put "customized SKUs" (i.e., retailer-specific SKUs) at the top. A "strong private label program" came in a strong second in this regard.
Emphasize customer service... rinse and repeat. In the closest thing to consensus reached among respondents, nearly 6-in-ten chose "emphasis on customer service and customer experience" as their #1 choice among marketing/customer experience weapons for fighting the ill effects of pricing transparency. Loyalty programs ranked a distant second.
Pricing management = control. When battling transparency effects with pricing management solutions, the biggest group expressed a strong desire to use tools to win customer favor without falling into the deep discounting pit. Use of data-driven price optimization tools to aid in pricing decisions also ranked highly.
An Executive Summary of the "Pricing Transparency: Can retailers regain control?" study, can be downloaded at: http://www.retailwire.com/page/10133/
Survey methodology: This internet survey was fielded in June and July of 2012 by RetailWire, covering the RetailWire community and other industry participants. The survey results are a composite of data from 278 responses. The respondent population breaks down as: 35% Retailer/Wholesalers; 27% Consultant /Research/Design; 21% Manufacturers; 11% Agencies/Media/Marketing/Promotion; 6% Tech Providers/Equipment/Applications/Services
This is an opinion survey of retail industry observers and participants. No consumers were interviewed and the survey does not purport to predict actual consumer behavior. While the survey sample is sizeable, no tests of statistical significance were employed in reporting the results and the results should not be construed as business advice or guidance by RetailWire or the study underwriter, IBM.
---
About RetailWire
RetailWire is the retail industry's premier online discussion forum. RetailWire goes beyond conventional headline news reporting. Each business morning, RetailWire editors pick news topics worthy of commentary by its "BrainTrust" panel of industry experts, and the general RetailWire membership. The results are virtual round tables of industry opinion and advice covering key dynamics and issues affecting the retailing industry.
About IBM Smarter Commerce and IBM DemandTec solutions
Launched in March 2011, IBM's Smarter Commerce initiative delivers software and services to help companies transform their business processes to more quickly respond to shifting customer demands in today's digital marketplace. Extending these capabilities to the cloud gives organizations immediate access to consumer information, providing instant return on investment.
IBM DemandTec solutions are a network of cloud apps and insights for more than 500 retailers and consumer products companies, providing common solutions to transact, interact, and collaborate on core merchandising and marketing activities. These services enable customers to achieve their sales volume, revenue, shopper loyalty, and profitability objectives. IBM DemandTec solutions utilize a science-based platform to model and understand consumer behavior. Customers include leading global retailers and consumer products companies. Learn more at http://www.revolutionarydecisions.com.