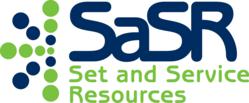 We have great employees that are passionate about serving our clients and associates. We have weathered some tough times in the industry and through those times stuck to our focus of becoming the best staffing service in retail.
Raleigh, NC (PRWEB) July 09, 2013
July 1st marked the 10th year anniversary of Set and Service Resources (SaSR). SaSR provides staffing, consulting and managed solutions to businesses and job seekers exclusively in the Retail Industry. Over the last 10 years, SaSR has not only survived the ups and downs of the staffing industry but remarkably has seen growth during tough economic times.
Set and Service Resources was conceived by Erik Hanvey in December of 2002, with the idea of building a national qualified workforce that other companies could use during the peaks of their workloads. SaSR received their first job order on July 1st, 2003 from a MSO (Merchandising Service Organization) company performing resets in a large Home Improvement retailer. SaSR now serves a client roster of major retail product manufacturers, national retailer chains and multiple MSO companies.
Since its inception 10 years ago, SaSR has grown from a small talent pool of 325 names, some with only a phone number and others with an email address, to almost 250,000 detailed profiles including contact information, work history and performance ranking.
In the early days, the staffing process started on manual and cumbersome spreadsheets. Today, all recruiting, hiring, scheduling, payroll and billing is run from Hireflex, the company's proprietary staffing software. Hireflex provides a comprehensive staffing solution with a flexibility and functionality that is unmatched in the staffing industry.
From a humble beginning staff of two, SaSR has grown to 20+ employees who assist SaSR clients with their retail staffing needs and provide Associates with job opportunities. Throughout the company's 10 year growth, SaSR employees have stayed true to the company mission statement - To serve their clients, associates and team members as they would like to be served and in doing so to ultimately be the number one supplier of temporary labor and recruiting for the Retail Service Industry.
"I am most proud of the team we have built at SASR over the past 10 years. We have great employees that are passionate about serving our clients and associates. We have weathered some tough times in the industry and through those times stuck to our focus of becoming the best staffing service in retail," commented CEO Erik Hanvey. "Our business is tough to duplicate and without the individual efforts of the people on our team and each person stepping up time and time again, we have created a business that makes a difference. We love our reps, love our clients and love each other."
About Set and Service Resources
Set and Service Resources is a leading provider of retail staffing services in the US. We provide temporary labor and permanent placements for Merchandisers, Installers, Project Managers, Sales Associates, Store Managers, Event Marketers and Demonstrators. Set and Service Resources has a national database active jobs seekers local to your retail locations and has filled over 170,000 retail jobs. For more information about SASR's service offerings, contact David Petrovich at (919) 741-5642 or email at dpetrovich(at)sasrlink(dot)com. Visit us on the web at http://www.sasrlink.com